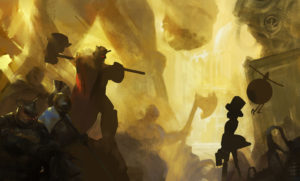 After several months of planning, negotiating and teasing we've announced our next Kickstarter campaign and it's OZombie. The campaign page describes the game concept as:
OZombie is a narrative-driven action-adventure game set within an alternate version of the Oz universe created by L. Frank Baum. The game's themes and characters are inspired by Baum's deeply imaginative books (all 14 of them!) then filtered through the story and art treatment you've seen applied to our other games like Alice: Madness Returns and Akaneiro: Demon Hunters.
We've set our target at $950kUSD and a campaign length of 42 days. Why 42? Because that's the number of Oz books in the official canon – plus it's the answer to the question of life, the universe and everything. Anyway, it seemed like a good number.
I'm obviously pretty excited about the campaign and the prospect of returning to the Land of Oz. Years ago I made an attempt at developing a game based on Oz only to have it canceled half-way through by Atari. They claimed to be running out of money, something they seem to do every couple of years. The rights to that project have been tied up ever since – which meant that this new Oz needed to be as different from the old one as possible. Pretty sure with the inclusion of "zombies" in the title we've made the difference insanely clear.
Yeah, I know there are too many zombie games in the world today. Couldn't agree more! Just keep in mind that when we talk about "zombies" in the world of Oz we're referring not to the traditional brain-hungry zombies made so famous by the Romero films, but of conformist zombies… the ones like you and me that occupy a world controlled by powerful people who manipulate us through fear and deception. That's the thematic core I'm planning to explore with the game – and one that featured heavily in the original Baum books.
So far the reaction to the announcement in the game media has been positive. Though it's difficult to say the same about the comments from core gamers on those sites. Seriously guys, if you can't come up with anything better than "he sucks, he made Bad Day LA" then I don't think I'm the one you should be calling unoriginal.
On a more positive note, for those of you interested in this new take on Oz, we've put together some really awesome backer rewards including hand-made steampunk goggles, printed art, physical toys and a wide variety of digital items. All the details can be found on the official Kickstarter page. A page for PayPal backers is being created and should be live soon as well.