Dear Insane Children,
I'm back after a wonderful period of time spent with Lucky (??)! He's a good little boy who spends most of his time sleeping. And when he's awake his main focus is drinking milk… followed by explosive bowel movements and a bit of hiccupping. Here he is in the preferable mode of behavior… 
The period of time we've had to adjust to this new life has been really wonderful. I feel blessed that Yan and I can be at home full time during this first couple of weeks. And really appreciate the support and understanding we've had from the Insane Children! 
Now for some good-news-bad-news… 
The plan was that this week would see us resume our usual schedule of Crowd Design and Live Streams but I've got a bit of bad news on that front. 
First, the good news is that I spent a bit of time during the holiday doing a complete rebuild on our streaming setup. Flipped the room around, rewired everything, installed a pair of new LED lights (color temp adjustable – woo), and general tidying. Was looking forward to doing a stream this week…
But the bad news is… my throat is killing me and has been for weeks! Finally went to the ENT Doctor this morning and she shoved an endoscope down my throat and sent me for an ultrasound. Not finding anything which might explain the horrible pain I have when swallowing or speaking for long stretches, the discussion turned to diet. 
Apparently, it's not recommended that a person consume 1~2x bottle of Tabasco per week? Along with a bottle of jalapenos. And various Chinese black bean spicy sauces. And it's "not normal" to put spicy stuff on breakfast, lunch, and dinner? 
Who knew?!
Uh… So I've been told to knock it off with the spicy food. And given medicine. And told to take it easy on talking for long periods of time.
After a week we'll see how things go and hopefully, we can have a live stream using the new setup! 
Madame Priscella 
Omri sends over the finished illustration of the tent in which we communicate with Alice's in-game fortune teller and Tarot Card reader … dealer? Turned out great!
Of this he says,
 Attaching the final version of the Tent, Jen's feedback is really helpful.
With this we are done with the realm of Denial and we can play with ideas for gameplay with what we will do with the Tarot cards.
If it will be like Madness (possible!) or go with another way,
either way Alex will need to come up with a UIUX design that will flatter it.
We said that the Tarot will "feed" our tarot cards weapon but is it just that? so we meet Pris only once and get that weapon from her? at Bumby's we said that we upgrade weapons.
To which I replied, 
This is fantastic. I think we should consider making this an option which player can access at any time.
Could be a menu thing… maybe we sell it as something Alice carries around in her pocket (shrunk down) and can jump into when she likes.
Actually… a kind of interesting idea on that topic… what if Alice collects all the places she's visited? And then carries them forward with her (in her pocket) as she goes. So as she overcomes a place she is able to shrink it and hold it in her hand… shove it in her pocket.
It's an interesting metaphor for overcoming trauma. It never really goes away. But after a while, it stops being such a big deal. 
The more I think about it the more I like the idea of representing Alice's conquering of certain aspects of her PTSD by shrinking them down. 
"It's all a matter of perspective. You make yourself bigger than the problem or make the problem smaller than you. Either way, the problem isn't bigger than you." 
I imagine Alice at some point in the game having overcome several of these areas… and sitting in a space surrounded by the little representations of them. Maybe these are analogs to the Memory Items she recovered throughout A:MR? Might it be that the encapsulation of those memories helped Young Alice to overcome the pain they contained… while the breaking open and re-living of them helped Older Alice to recall her memories and her past? 
Hmmm… Tell me what you think of that idea in the comments below. 
More Soon
There are more bits of artwork and other things to discuss this week. I'll share those things in posts to be made … in the future. Right now I need to have a bit of a rest. Hospitals, having things shoved down my throat… and, worse, being told I can't eat Spicy Food anymore… Uhg.
Font Lord Says
Martin sends along a quick list of points you should keep in mind with regards to the recent Cheshire Kitten Goal/Reward. These address some of the FAQs we've seen recently via email and in the comments. 
 1) Backerkit is the site we're using to collect your info for shipping – you can trust it! If you get an email from Backerkit please open it and follow the instructions. If you don't do that we can't send out your Cheshire Kitten! 
2) The "$50 Tier" name on Backerkit doesn't impact your actual Pledge or Tier amount… Some of you were at $75 for the qualifying month but you'll see that someone (Font Lord, we're looking at you) wrote "$50" into the survey page, thus causing confusion and emails stating, "I pledged $75 but it's saying $50!" Please, just ignore that!
3) Reminder that if you've not seen your survey email, do a search for "backerkit" across all your email folders- junk, spam, promotions, etc. These emails like to get stuck into all kinds of strange folders. 
4) We'll start shipping Cheshire Kittens next week around September 23rd. Maybe as soon as this Friday 20th. Kittens go out in batches of several hundred per day. That means some people will receive their Kitten 1~2 weeks before other people. Don't fret! Give the entire sending process 1~2 weeks. And then allow up to 5 full weeks for delivery (to most locations around the world). 
5) If you got a survey for an art print then you earned an art print – trust us! Many Insane Children have expressed confusion at receiving an Art Print Survey. Keep in mind that you do not need 3 consecutive months at $35 to earn an art print. And the $50 counts towards the 3/$35… so if you paid $35 twice at any point in the past – and then did the $50 for the Cheshire Kitten – you can expect to get an art print as well. 
6) Yes, you can safely adjust your pledge amount (and Tier) now. We've removed the $50 Tier entirely. No point sticking around at that level now that the promotion is over. But… 
We do hope that you will stick around, even at a lower Tier level. At $5 you get access to our Discord Server and can join the Crowd Design Sessions (when I am not broken in the throat). And your support, whatever the amount, keeps this ship afloat! We apply your Pledges directly to paying for our team of artists, designers, and Font Lords. 
Without you, we would never see who Alice encounters when she opens this door…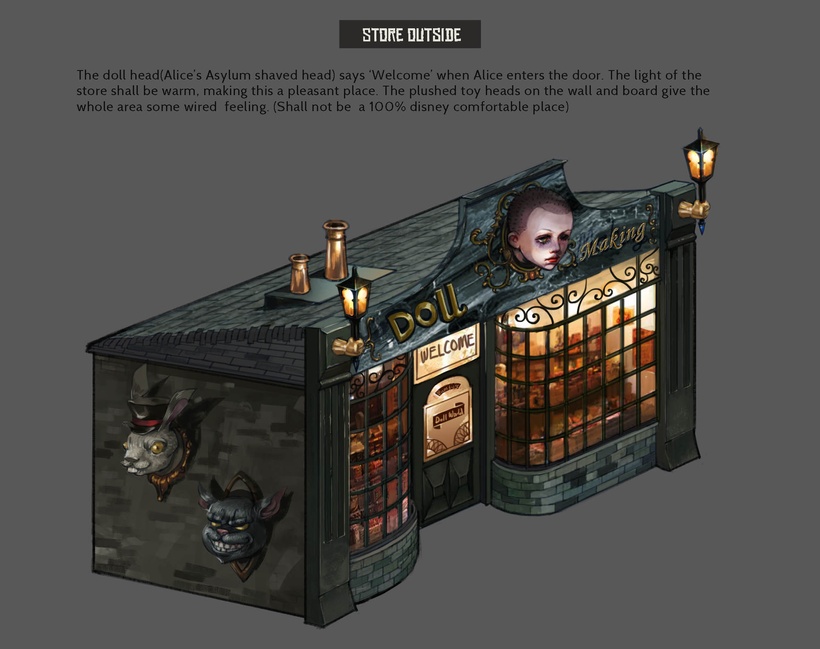 Can you guess? 
You'll find out next time… 
From Shanghai with Doll Parts, 
-American