Dear Insane Children, 
The schedule suggested we might have a Live Stream this morning but that (obviously) did not happen. Lots going on in Shanghai at the moment – visits to the maternity hospital for regular checks of Baby #2, preparation for Chinese New Year, and lots of behind-the-scenes work at Mysterious. So we'll try to have our next Live Stream on the 27th. Try not to go mad in the meantime!
These two new images come from Joey and depict Alice in her Asylum room in close proximity to her reflected Shadow Self. The original brief for this image suggested it contain action related to the moment of separation between Alice and her Shadow. 
Leaving aside the fact that these images might not properly convey that idea… there's another set of problems that I made note of in my response to Joey: 
I love the image. But I ?am unsure about the details. This is supposed to be in her asylum room? ?Very unlikely that she'd have such a big window – too much glass she could use to harm herself or others. Also unlikely she'd have any sort of "nice" ?furniture (or any at all) ?in that room. The same goes for the lantern, snow globe, sheets, etc. All of those would pose a risk – she could use them to harm herself or others. Maybe it doesn't matter.
If we really want this to be set in her asylum room (cell)… then the reflection could be in a smaller window. It could be reflected in a puddle of water. Or in her drinking mug (water). I ?dunno… kinda difficult to find a reflective surface in this sort of location.
This was in response to the 2nd image on the page. Her reply was the main image (top image above). So the technical issues have been largely solved – like why would there be a giant mirror in a cell at an asylum. This illustration still doesn't do the work I think was originally requested of it… but that's OK. It's a beautiful concept and Alex says there's enough text/imagery in this section of the Design Bible to cover for it not being 100% accurate to the scene. 
Omri decided that we needed a new London Dress for the scenes in which we see (adult) Alice adventuring around the streets of London. Not only did she get a new dress here but she's also got some new CRAZY EYES. 
Of this new image, Omri says: 
we need our own London dress, we can't show off art from Madness as our own so i'm making our own version of that dress and general look- this is WIP.
?i think when she goes to kill Radcliff she's really off her nut and lost EVERYTHING. so i want to make sure that she does look insane and that the outfit is even more tattered than before with longer hair- as time passed??, but same hairdo/texture
?she IS holding a knife to his throat right? not an envelope opener? i want to incoporate that weapon in the design. this london Alice should be similar but not the same as the one in AMR.??
Not sure what he's talking about with "art from Madness" but I'm never going to complain about new dresses. And I also like the idea that The Shadow is taking over completely as Alice heads to murder-stab Radcliffe. 
If I saw her stalking down a London street with that knife in hand, I would get the eff out of the way!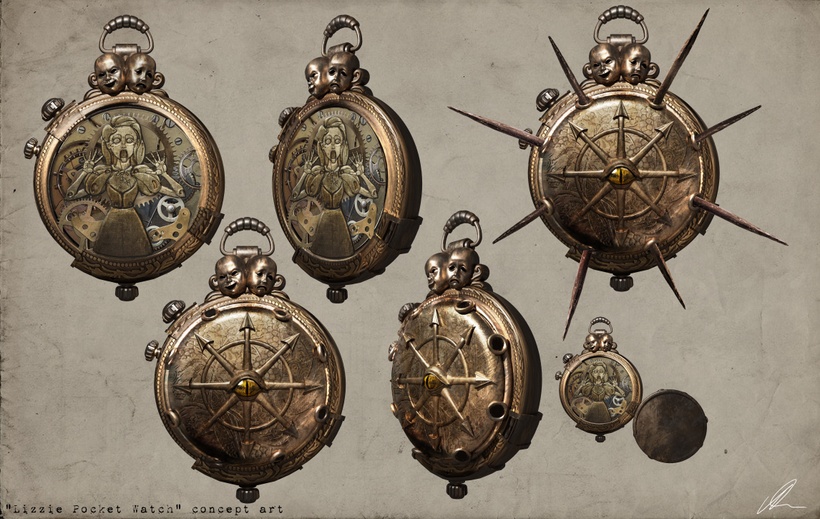 And we have a new render of the pocket watch in which The Dollmaker has trapped Lizzie. 
Of this design, Adam says: 
Here is a rendered update of the "Lizzie Pocket Watch"!

?I imagined the clasp would cover her during the battle and the dirty, boney fangs would emerge from the holes around it, turning the watch into a weapon.

?After the battle the fangs can hide back into the clasp which would open and show Lizzie again so that Alice can talk to her.

?Please do share your feedback and ideas regarding this design, I personally really like how it turned out:
So let him know in the comments what you think! 
From Shanghai with Love,
-American