Dear Insane Children, 
LOTS going on these days but I've neglected to provide you with an update! First, we had a Live Stream last week. Here's a link to a recording of that over on YouTube: 
https://www.youtube.com/watch?v=JuwJxIQPO8s 
In that, we discussed the Alice TV deal, progress on the Design Bible for Asylum, and new work being done on Oz: Adventures. Check it out!
A New Adventure
I mentioned during that live stream that most of my work (related to story) is finished on Alice: Asylum (at least as it pertains to pre-production). That means I have time to start work on a new story – and so I've turned my attention back to Oz: Adventures. 
The main image above is from Gareth and depicts a scene where the Conquestidors survey the site of their shipwreck. This is currently outlined to be the first episode we'll see in Adventures… with the following episodes introducing new storylines from other adventurers trying to survive the wilderness of Oz. *Note: The narrative will provide an equal-opportunity portrayal of mankind's cruelties – it doesn't just single out the Spanish as history's only bad guys. Oh, no. 
And while I have a basic understanding of some of the specific tales I want to tell… Conquistadors, WW2 Pilots, modern-day tourists, etc… I'm still working on (struggling with?) finding the overarching theme linking them together – and in making Oz the place where their issues are properly investigated and challenged. All this while exploring a backdrop of Oz's own cultures, politics, and conflict. 
Very happy to have Gareth guiding this journey through excellent visuals. 
Check out those Flying Monkeys! A lot of great details – elements of the culture, work, and lives of these characters. 
The Flying Monkeys will be the first characters that we also render in 3D. Those assets will be placed into Unreal – and we're hoping to have a tech demo showing some ideas of how Oz: Adventures might work as a hybrid game-graphic novel (more on that later). 
But, yeah, because we are not constrained by EA ordering us NOT to turn on a game engine (as is the case with Asylum), we WILL be turning on Unreal and building some prototypes in that engine for Oz: Adventures. Yay! 
And a scene depicting the Conquestidors' first encounter with signs they are in Flying Monkey territory. 
Let us know in the comments below what you think of all this new exploration – and if you have ideas on the sorts of themes you'd like to see explored in this new narrative. 
Meanwhile, In Wonderland
Omri is working on a revision of the Insane Children / Orphans. This is an exploration of an update on the style you saw in Madness Returns. 
Of this design he says: 
i thought to make the signs into the middle part of the body for all of them
?and make the dolls into different kinds of dolls. i don't want them all to look porcelain and "The Same". i think each of their trauma is specific and unique so their design and materials should be as well.
So let him know in the comment below – what do you think? 
And Joey is working on a scene where Alice explores the memory of her visit to Radcliffe's office.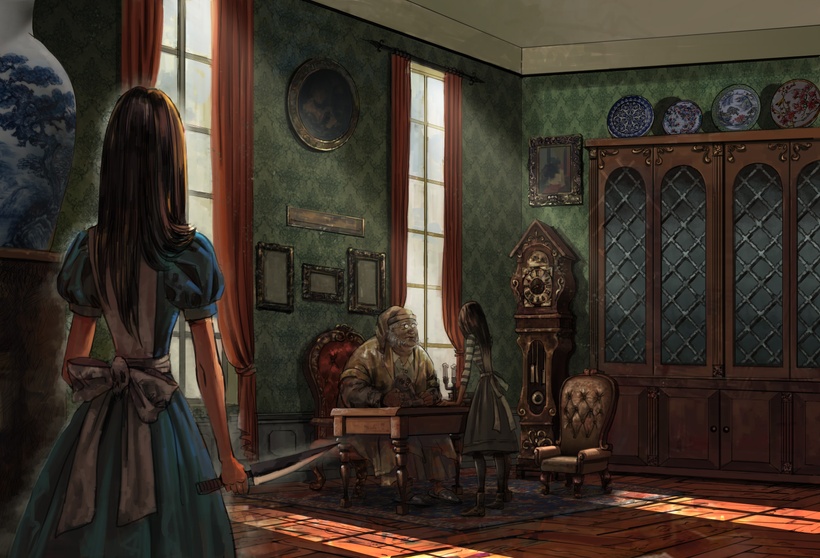 Of this Joey says: 
Exploring Redcliffe's office. It was dark and Alice is walking around with caterpillar talking to her, then she saw her otherself standing right next to the desk, asking for the rabbit from Redcliffe(happened in AMR), the tone of the room started to change, little by little, soon to taht afternoon/or moring, when it really happened. I rendered 2 images with one lineworks, so this takes me some time:)
This room is not excately the same as in AMR, I moved the clock into the room, while in AMR, the grandfather clock was at the end of the asil, outside the room. I also played with some furnitures, hope that's ok. We don't have to make the room 100% like we showed in AMR right?
Let her know in the comments what you think!
That's it for today's update. Hope everyone has a wonderful weekend. And we'll be back next week with more great art, story, and design updates. 
From Shanghai with Monkeys, 
-American