Dear Insane Children, 
Yay! We did it! With help from our lovely Mods and Editors over on Discord and the Wiki – we managed the first-ever Crowd Design meeting for Alice: Asylum. Quite a few of our Insane Children joined for the live chat as we scrolled through the list of design suggestions collected over on the Asylum Wiki. 
If you missed it live, don't despair! Here's A LINK to the discussion posted over on YouTube.
From my perspective this was a great success. We had excellent suggestions and feedback from the design group. I was really impressed with the quality of the discussion. And I think we've firmly established that this is a functional way to open up the design discussion to the group. Have a listen and let me know what YOU think. 
And be sure to join us next time! We'll meet again same time, same place next week. That's Tuesday, December 11th @ 10AM (December 10th @ 6PM PST). 
Cheshire Cat Concept
Omri sends along an art concept for a Cheshire Cat as viewed through the eyes of 13-year old Alice. I like not only the scale idea but also the work he's done to present a younger cat which isn't a kitten. As much as I liked "Cheshire Kitten" I think the concept presented here might have more going for it… 
What do you think? 
EU Livestream Tonight
Don't forget to set reminders for tonight's livestream. That's at 12PM (noon) Paris time (7PM for me and Martin here in Shanghai). 
Hit THIS LINK to set a reminder and join us.
Be sure to send your QUESTIONS and SUGGESTIONS in the comments below.
A Message from Our Sponsors
Our friends and sponsors Andrew and Deborah send along this special message regarding a special poll…
This week Deborah and I are doing something different. We have a tribute show coming out later this week to honor the late film composer Chu Ishikawa, but until we post that we have a poll going on for a special guest appearance we have coming up.
Can you shoutout the poll today? It's for the inaugural episode for a new show 26 Movies from Hell. Here's the link to the twitter poll where we are asking for votes on the first movie we talk about.
https://twitter.com/26MFHPOD/status/1068565268295643137
Head hit that link and head over to Twitter where you can vote on which movie they'll cover first! (I voted for "Alice Sweet Alice" for obvious reasons!) 
Please take a moment to follow Andrew and Deborah on Twitter and check out their Patreon Page. They support us – so if you support them … then you're double-supporting us. Or something… I get confused. 
Follow the White Rabbit
Don't forget! We've got a White Rabbit goal to reach!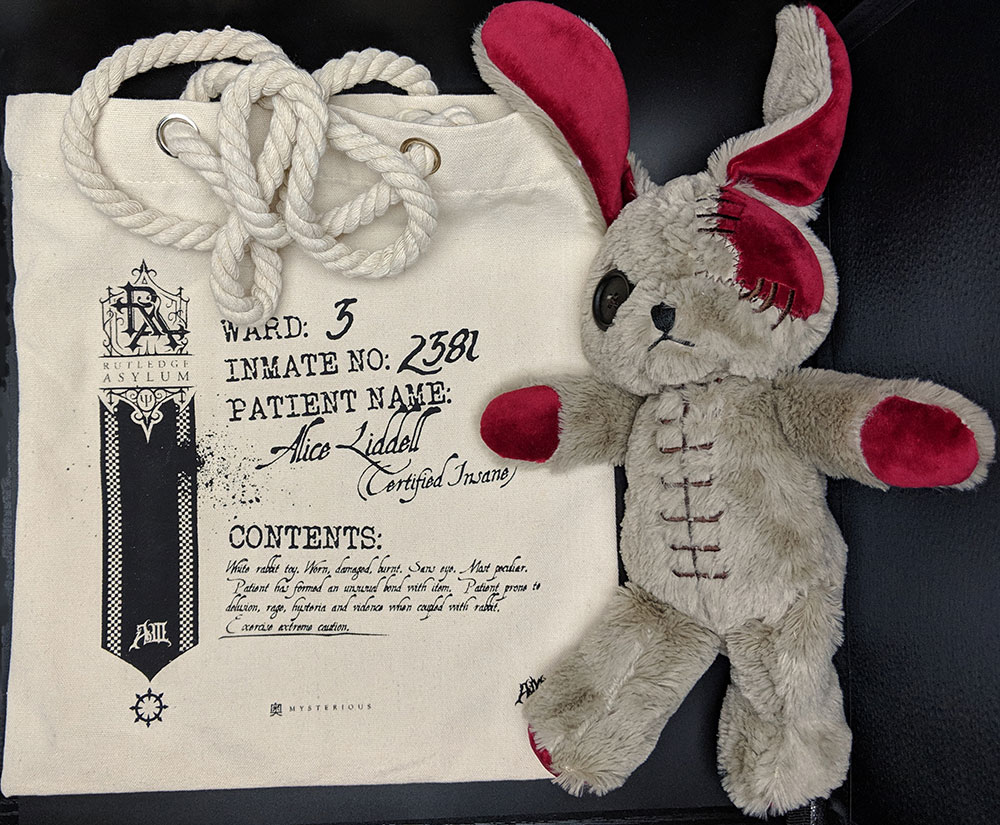 To unlock the White Rabbit Plush (click that link for full details) so we can send it to Patrons around the world we first need to hit 3222 Patrons. Ask your friends and family to join at $1 so we can hit that goal quickly – then everyone at $45 (and above) gets the Rabbit, Asylum Property Bag, and Lulu Patch mailed to them (FREE GLOBAL SHIPPING). 
Share the image above on your social media channels and let your friends know about all the insanity going on here in the Asylum! The more the madder!
December Shipping Update
A lot of you are (understandably) curious about shipping status and timing… I wrote a response to Dustin over on the Community Page with some details: 
For the record, it usually takes us about 2 weeks into the following month to process all the pledge/shipping data for a previous month. We then spend 2+ weeks signing, packing, and sending stuff. From the point where your package gets shipped (which can be 2~4 weeks from the end of a month) it'll be another 20+ days for shipping. Shipping times depend on where in the world you're located, weather, postal strikes, etc.   
We can check on your particular package if it's absolutely necessary – there are tracking numbers on everything we send out – but we do ask you to take into account everything written above before making a tracking request. We sent out nearly 1000 posters last month. So if everyone starts writing asking for tracking info Martin will probably die. Please, don't kill Martin.  
So… if you are waiting on a poster or other delivery from us do take this info into account. And, if needed, PM to ask for a status update. 
That being said, there will be a special exception for December. Please take note!
We WILL NOT do the usual processing and shipping in December. The reasons are as follows: 
1) The usual start time for shipping (~2 weeks into a month) lands on American's birthday and also coincides with his scheduled departure time from Shanghai to Thailand for Christmas/New Year travel. 
2) Sending stuff during the holiday season increases the risk of damage, loss, and theft (from Porch Pirates). As such, we're going to skip shipping in December and resume (with all the December + January shipments) in January. 
Having read all that if you still have questions or concerns please feel free to PM US. 
Expect a Slow Response
Our response time from mid-December until the first week of January will be SLOW. That's because Martin will be back in England – no Internet at Castle Font Lord. And American will be out on the sea marauding and pirating – Pirates only get sea-mail. Har, matey! 
Things will resume as-per-usual around January 5th, 2019. 
I (American) will try to make some updates as I travel – since I'll be visiting the tech park in Thailand where we're looking to set up the new studio and doing some Pirate Jam location scouting. Might have some pictures and video to share along the way. 
See you on the Livestream tonight! 
From Shanghai with Insanity,
-American