Dear Insane Children, 
Our Crowd Design process on the new Cheshire Kitten Plush Toy moves forward! Omri's sent over a Spec Sheet (version 4) with updates based on YOUR comments and feedback. Lots of great ideas contained in this update – many thanks to YOU!
This version is now with the factory (same group who made the White Rabbit Plush) and will be turned into a production sample within a few weeks. 
Compared to the White Rabbit Plush, the Cheshire Kitten contains a lot more embroidery and custom design. It will also require the production of custom eyes. The result of all this extra detail should be a plush toy of excellent quality and character – but these elements won't come free. 
It will be interesting to see how all of this impacts the production costs. Within a small %, those increases can be hidden within the retail cost. If there's a large increase in costs… then we'll have to discuss compromises. 
But let's wait a little while and see what the factory sends back! Might be another Cheeto Monster! Might be a ready-to-produce masterpiece. My guess is that it'll be somewhere in the middle.
At this point, I think we can all reserve design feedback on the design sheet and wait for the production model to be delivered. Once we have that in hand I'll share pictures and we can resume the design feedback. 
Btw, I really love this process! It's so much fun to design things in a group. I look forward not only to the updates from our design team but also to the feedback from you, the Insane Children in our Crowd Design Team. Thank you, for being a fun part of the process!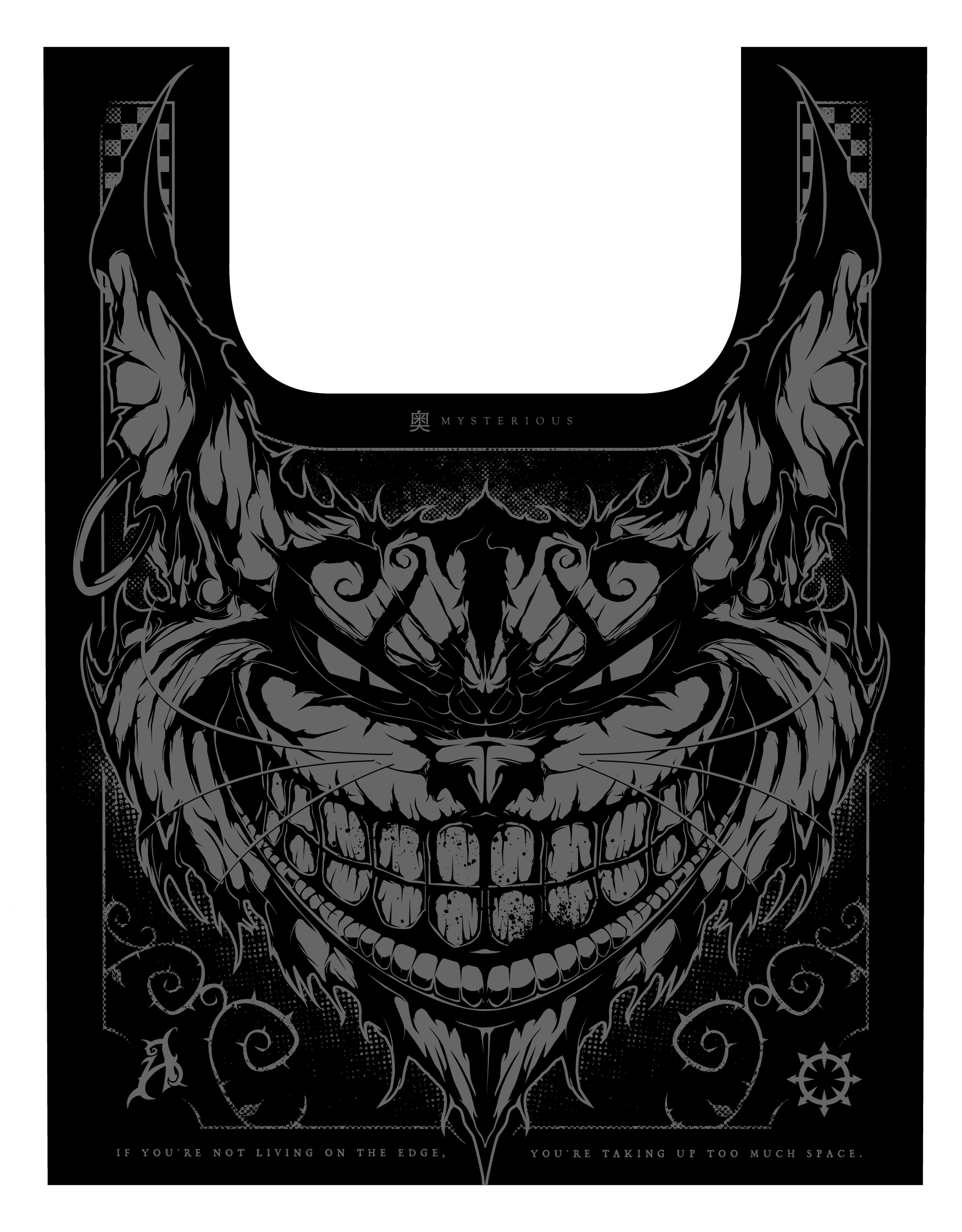 Alex sends over an updated version of the Cheshire Nylon Bag in which we'll send out the Cheshire Kittens. His design also reflects changes made based on your comments. 
This version is, in my opinion, closer to a design we might call "final." What do you think? 
The only thing I am not a fan of… is the AMG "American McGee Official Merchandise" element. 
Several reasons for this. First, I am not one to wear other people's brands. Most of my t-shirts are plain, single color, and devoid of external brand markings. The exception I'll make is for "bold" art/symbol designs – but those also can't be too closely related to a brand or brand logo. 
That being said, I don't mind a subtle "tag" here and there on my clothing or shoes. I just don't want to be a walking billboard. And I don't expect the people who carry or wear my stuff to be one either. 
Second, it's confusing to have both the Mysterious brand and this new "AMG" brand on the same bag and on the same side of the bag. Reminds me of these shoes I see at the knockoff markets here in China… 
So, Alex, this is a big "nope." Let's just keep the paw clean and free of branding! I'd suggest we remove the AMG branding as well as the Mysterious branding. For the Mysterious brand, we'll print tags and sew those into the bag on the inside. (Same comment for the Mysterious branding on both sides of the bag). 
What do you think, Insane Children? Let us know your feedback in the comments below.
We look forward to hearing from you! 
From Shanghai in a Plain T-shirt,
-American