Dear Insane Children, 
Do you ever feel like everything is upside down and turned around? Like up is down and nothing makes sense anymore? As Cheshire said, 
 Puurrfect. When you're not on edge, you're taking up too much space. 
Because the thing about life is that it's neither safe nor certain. And when we try too hard to organize and control things we only create suffering for ourselves and others. 
So embrace a little Chaos. And climb that mountain… even if you've got to get down to go up. Or sideways with some serious twisting!
The latest illustration from Omri renders these notions in a riot of madness and rich details. Wonderful!
I think we might call this print "Escher Alice" … what do you think? 
Live Stream This Week
As many of you are aware, we're running a joint Art Contest with the team at Mantacore. And this week's live stream will be a special joint-stream where we're joined by Jordan Maynard from Mantacore. He'll walk us through the design/creation process in Core. And we'll review some of the Asylum entries sent in from the public. We'll also talk about Alice, Asylum, and my thoughts on game development and design. 
It's around our usual time – 6PM PDT on Wednesday, May 13th (9AM on Thursday her in Shanghai). 
This will happen via the CoreLive channel on Twitch. You can follow that page on Twitch via THIS LINK. 
We do hope all the Insane Children will join us for the fun!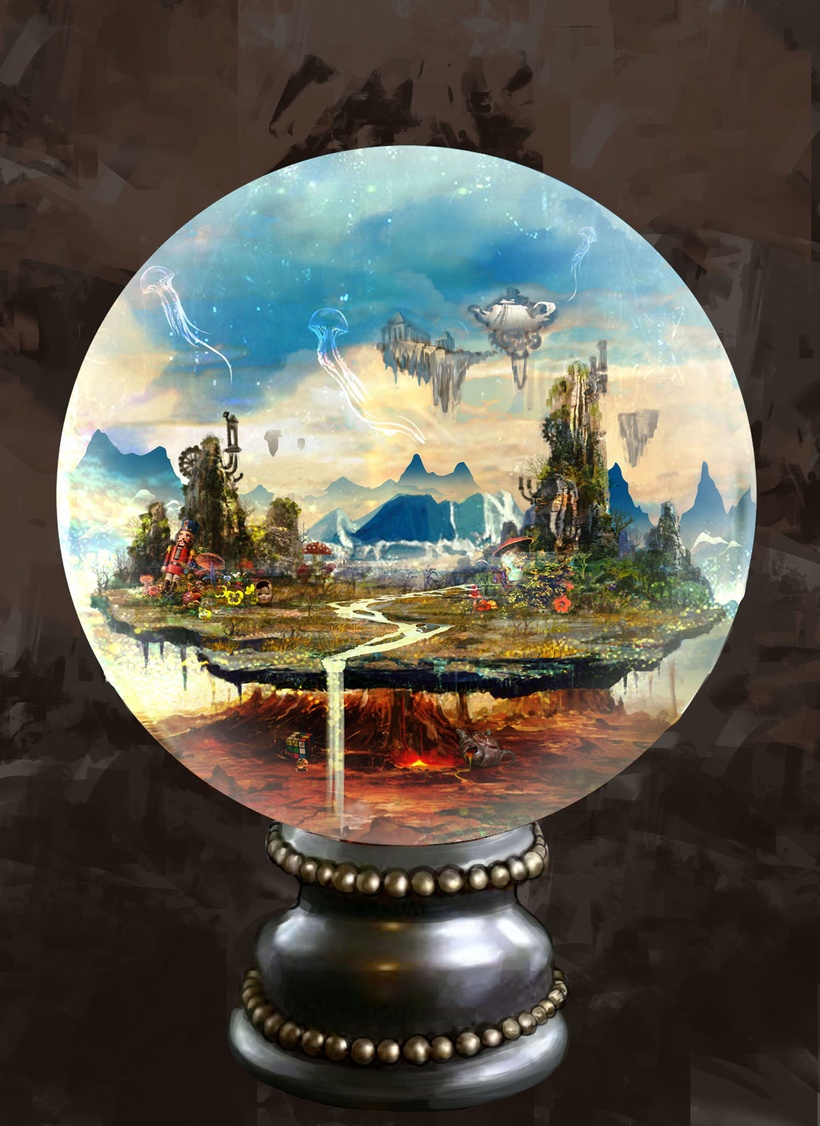 Asylum Snow Globe
Now that things in China are relatively normal – meaning we can travel by train to nearby provinces without too much drama – Yan and I are planning a trip to YiWu next week. There we'll check out factory options for a custom-made Asylum Snow Globe.
I will probably make a travel vlog about that trip so that you can see where we go, what kinds of snow globes are on offer, etc. Is that something everyone would be interested in? 
Tea Sets – on a related note, I know several Insane Children have been lobbying for an Alice Tea Set. We'll keep our eyes open for something… but I want to warn that a tea set will very likely break several of the rules we have with regards to the stuff we make and ship. The first issue will be weight – anything over 1kg is really expensive to ship these days. And the second issue will be fragility – which is kinda related to weight… to pack a tea set (and all that implies) in such a way as to avoid damage would mean LOTS of extra packing and padding. Anyway… like I said, we'll keep an eye out. 
Stuff For This Week
I am still trying to get caught up on packing and sending things. Only 50 orders left in the system now. Omri and Dario are starting work on The Moon (character and level design), so expect to see some interesting renders of that soon. And the rest of the team continues to work on characters, weapons, and locations. More art coming soon!
From Shanghai with Chaos,
-American