Hello again everyone, Alex here with some updates from the shadows.
(And a word from Font Lord at the end)
It's crowd design time. We're opening up some old wounds here with a new weapon concept.
1. Umbral Scythe – Initial Weapon Concept
I won't go into too much detail here regarding the weapon lore to avoid serious spoilers.
However, if you do want to travel down to Spoiler Town read the Narrative Outline here. (Pages 128-133 specifically).
There comes a point in Asylum where this new weapon, the Umbral Scythe makes its horrible debut. Forged of darkness, this is a weapon wielded by Alice's Shadow Half.
American had requested the Scythe feature some form of "tentacle" motif, and I've tried to work this in visually so that it doesn't override the main function of being a Scythe-based melee weapon. It can also be thrown as a spinning death wheel, boomerang style.
The narrative outline details a few other nasty tricks up its sleeve, but for now, we're asking the question of aesthetic.
Currently, Umbral Scythes come in four tasty flavors.
A) Chaos
B) Dark Vorpal
C) Embering Ruin
D) Ruin
The choice is; which is the right design in your opinion?
Which version best suits the character of Shadow Alice as the default weapon skin?
Where do we take the design from here?
Or does a concept here nail it?
Sound off in the comments below.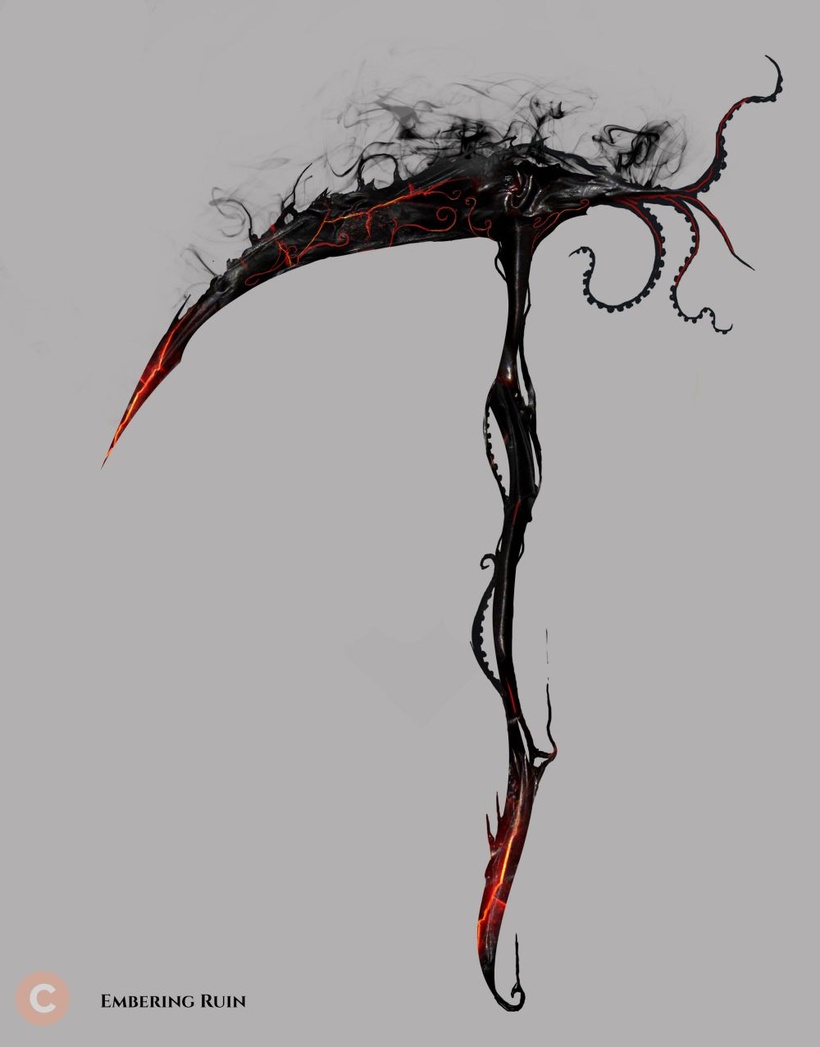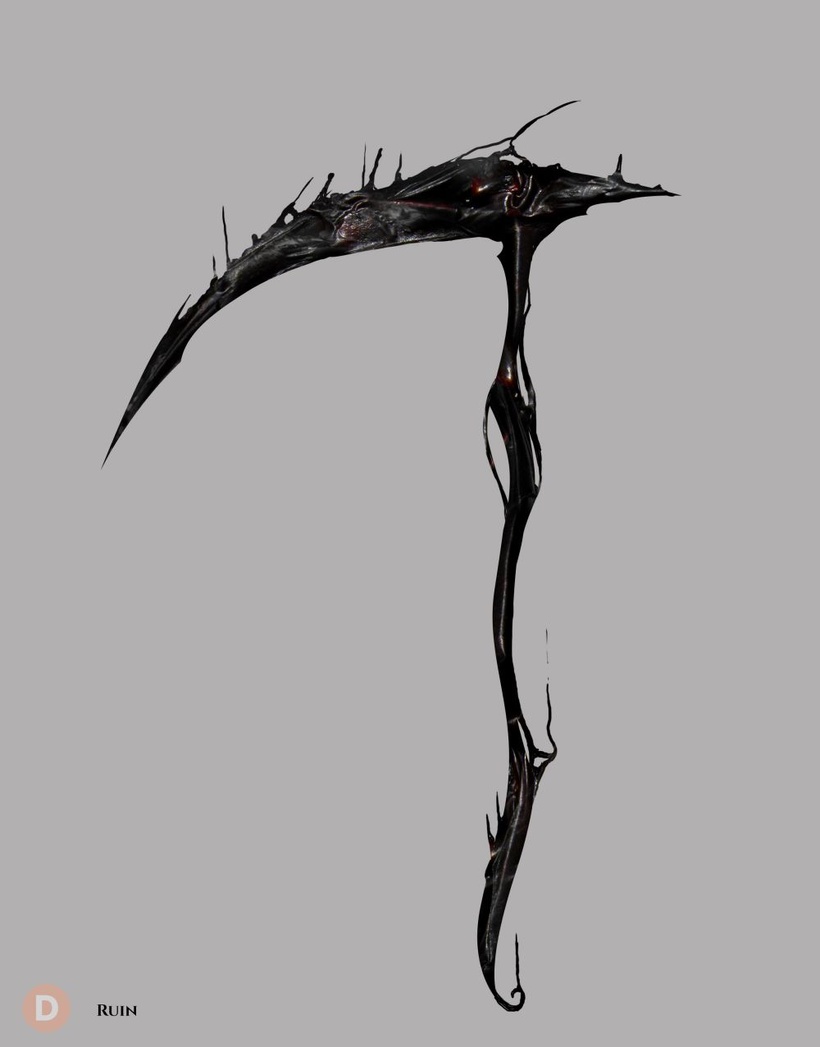 When I designed this weapon concept, I felt it depends really on what we want to primarily communicate visually in Shadow Alice through her weapon choice.
I've got my favorite, but I'm interested to see yours.
For easy reference, here is the current collection of concept art from the character development of Shadow Alice. Created by Omri, Joey and Myself.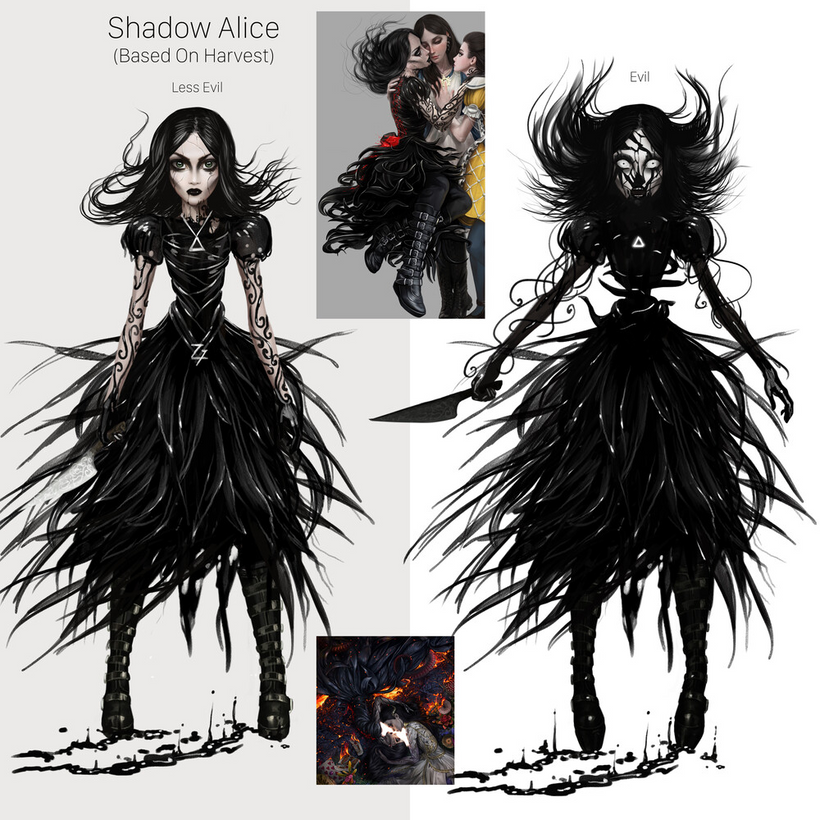 2. Carpenter and Walrus // Chaos Consumed
Next up, the original designer of Alice's iconic look from over 20 years ago, Norman Felchle has been working on concept art for the boss encounters for the Carpenter and the Walrus in Asylum. They're crazy good and we feel they hit that right balance of macabre and fantastical.
Appearing at the end of the "Cataclysm" level, Omri and I are playing around with showing destructible environments in this particular boss combat arena.
The current idea of this particular boss fight is to have both Carpenter and Walrus become GIGANTIC, and not to have Alice face these foes directly in combat.
Rather, Alice uses their own attacks to destroy the floating islands in the level, and against one another, thus sending both the chaos-infected Carpenter and Walrus tumbling into the abyss. Expect some cool concept artwork from Omri soon.
—-
Lots more artwork coming in hot from the team. Expect some big narrative updates, business dev stuff and Mysterious news shortly!
Stay tuned, plenty more madness to come.
Take care of yourselves and each other out there. <3
– Alex
—————————-
And now a word from your friendly neighborhood Font Lord.
October is almost upon us, so that means here is your (slightly late) warning about what the next art print is.
For September Patrons. charged in October.
The super creepy BIRTH OF JABBERWOCK
Apologies for the late alert, but you still have about a day to change your tier if you really really want this print    🙂
– Cheers