Dear Insane Children, 
Without revealing too much of the actual story (spoilers), I thought to share some of the illustrations by Omri from the ending scenes of the game. Here's the art request outline for this section: 
45.2) Alice locates Angela / Narrative Closing Scenes – Page 165-166 (v2.1)

Art Briefing and Output:?
(Render at least 2x Images)

Render the closing scenes of Alice's journey in Asylum.
?Image 1: ?Level design scene of Alice searching for Angela in Radcliffe's Mansion.
?Image 2: ?Closing Scene of Alice interacting with Angela. Render scene as described in the narrative. Include the Rabbit and the focus on the bond between ?Alice and ?Angela.

?Optional: ?This brief is open to catch as many interactions with Alice and the characters mentioned in the story here as possible. Anything that adds emotional weight and conclusion to the story is welcome.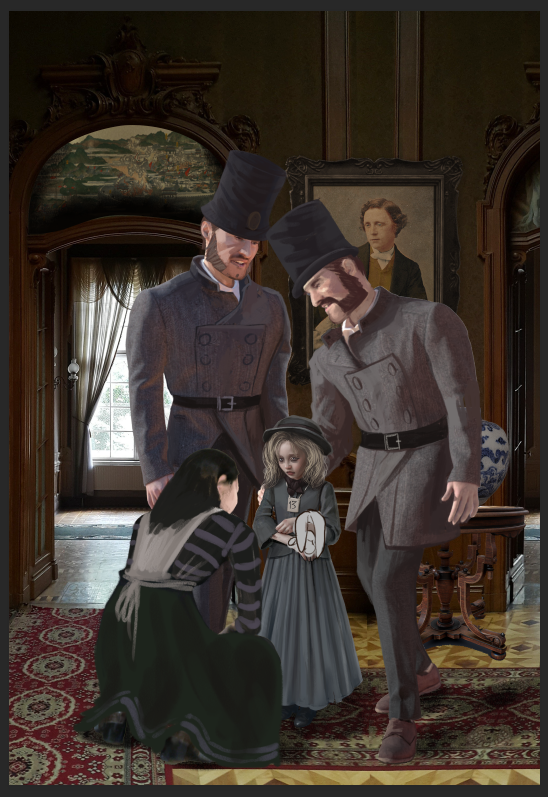 One interesting thing you might notice about the image above is that Omri decided (for some unknown reason) to include a picture of Lewis Carroll. And so I had to write a note to him and said, "Please, don't do that." 
Not sure how many of you are aware of this… but I've always worked to avoid any mention of Carroll in the games. I started out doing this simply because I felt his inclusion didn't help Alice's narrative. What sort of relationship would we want him to have with the Alice in our games? And does it even make sense that he'd be there? 
One could frame the question in this way: Was Carroll in his own books with the fictional Alice who traveled to Wonderland? I don't recall that he was. So if our Alice (Game Alice) is the one that travels to Wonderland… then she's a derivative of the character from the books. And we could say she was created by – but never actually met – Carroll. That's my logic anyway. 
Later, I began to distance Game Alice from Carroll because there was just too much controversy around him. And I have no idea what to believe. And given the nature of the controversy, it seems it would make Game Alice's story even more complicated. 
Perhaps there's an angle there? If we knew, with complete certainty, that Carroll engaged in some sort of inappropriate relationship with (real) Alice, then the games could be viewed as some sort of reflection of that situation. But… we've never gone there. And I don't really see the point in it now. So… 
I asked Omri to remove that portrait of Carroll. 
And, yes, I know there's a similar portrait of him in the original "Alice" game but I never wanted that in there. And one of the developers snuck it in without my approval. Meh.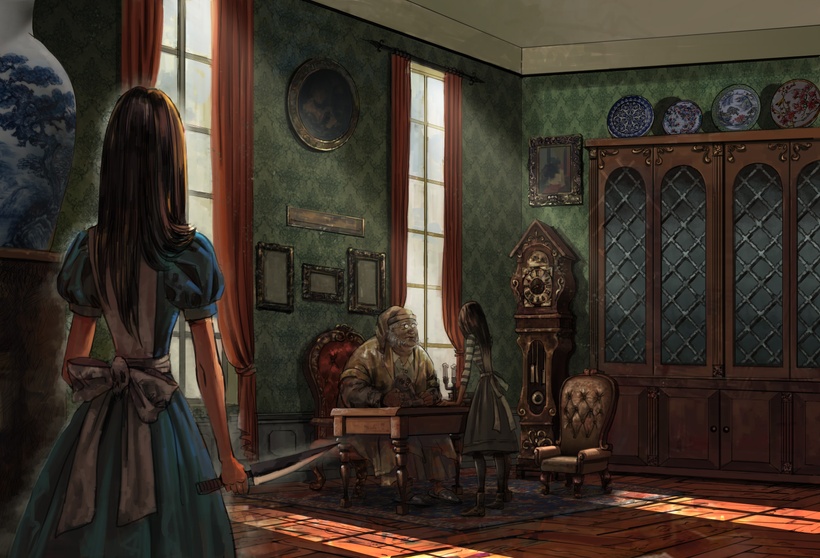 Feel free to share your thoughts on this topic in the comments below. 
Shanghai Update: Still too shaky out there for us to feel comfortable with Martin coming over for a Live Stream. But we do talk about it often and are doing our best to make one happen soon. 
From Shanghai with Love, 
-American