So much going on!
First off, it's SNOWING in Shanghai. Come on… 
Totally unnecessary and makes me want to jump into that house fire with Alice. Or at least move our offices to Thailand!
Up top… That's a rough draft of a new cover image from Sonny. Expect a final version soon… I think this is what we'll use for the license presentation cover artwork. Hot enough for you?
Joey sends along another batch of design/environment illustrations.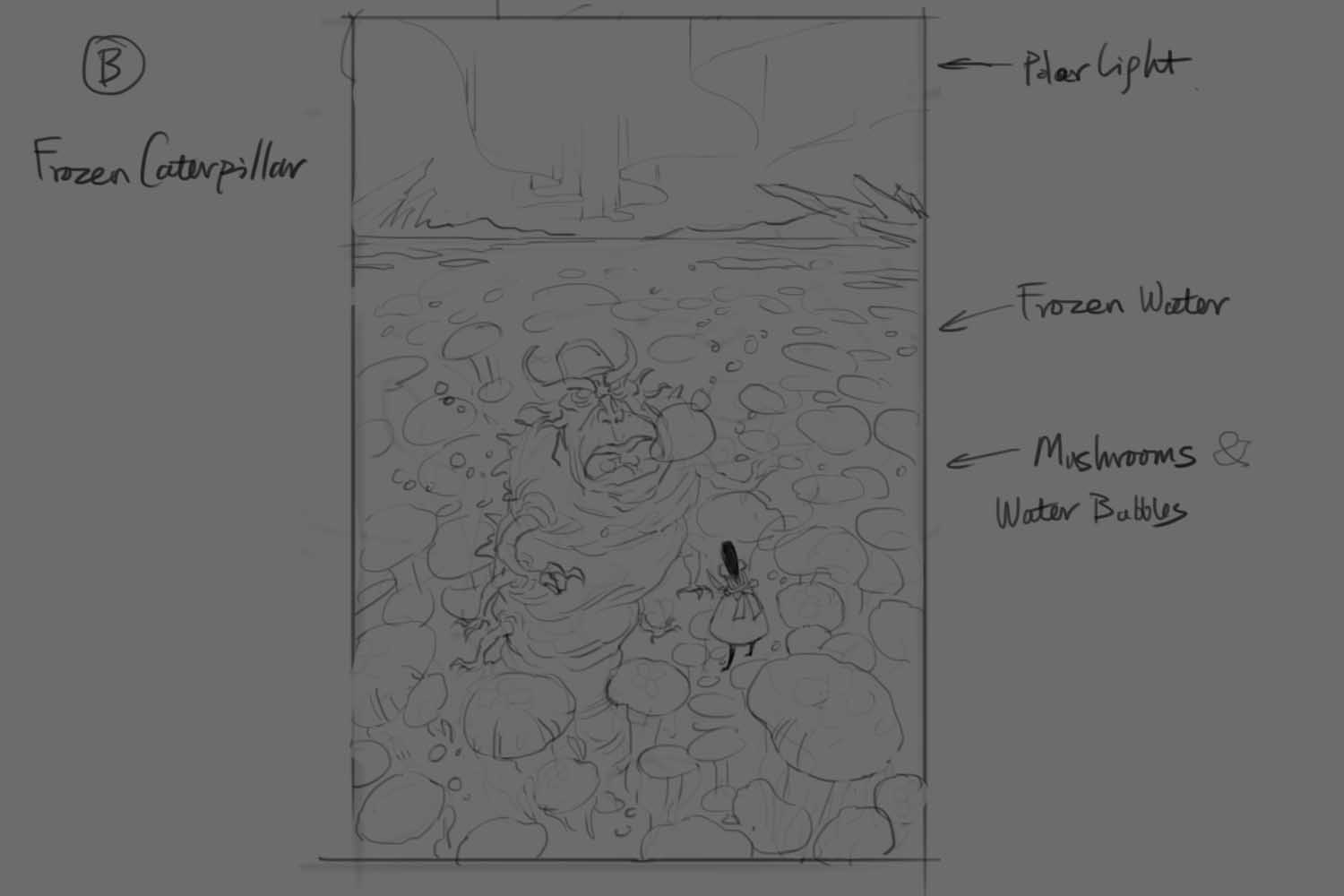 It's -14c at night where Joey is… so you might guess where she got inspiration for this frozen Caterpillar?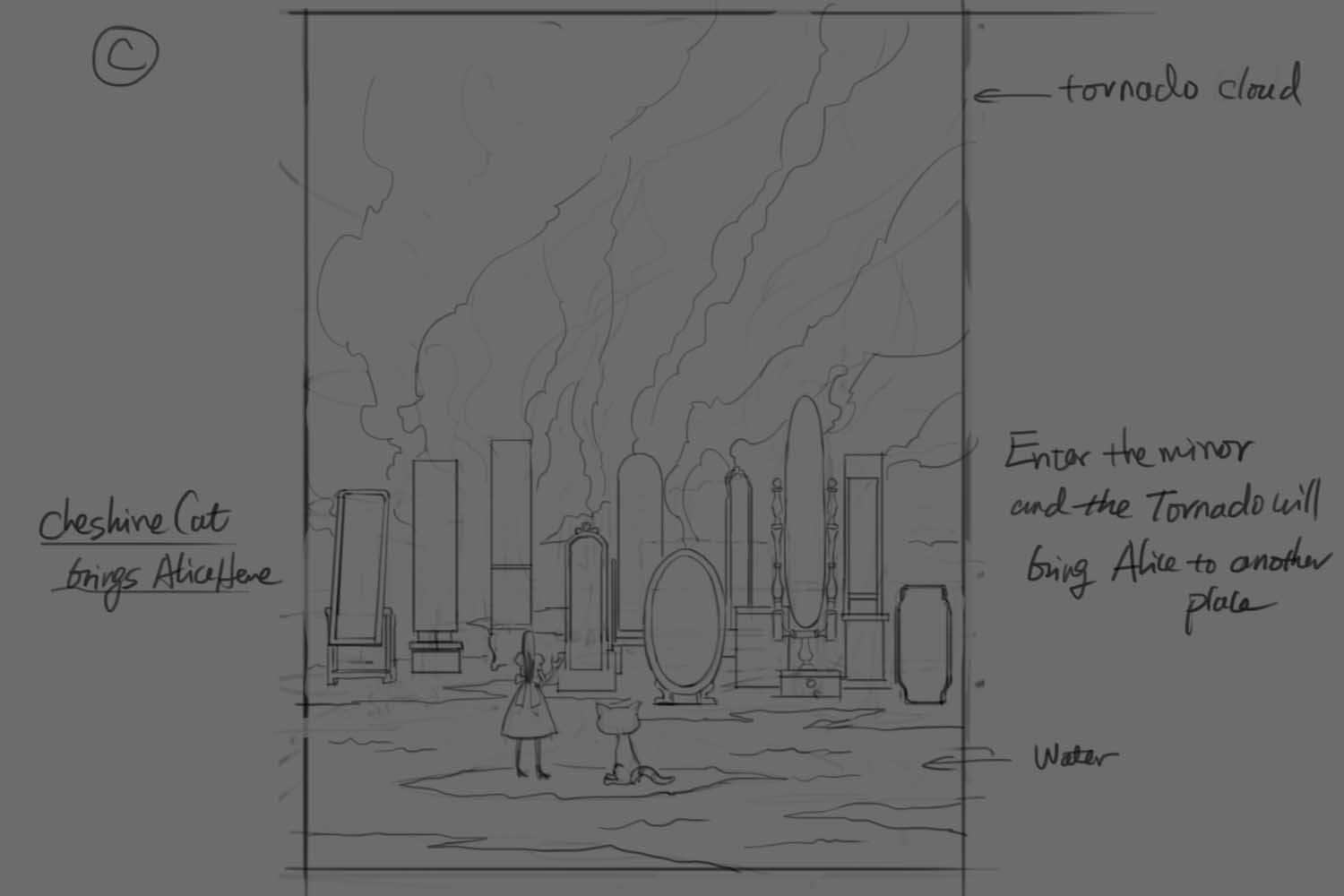 We're exploring a "house of mirrors" concept… something to… reflect on.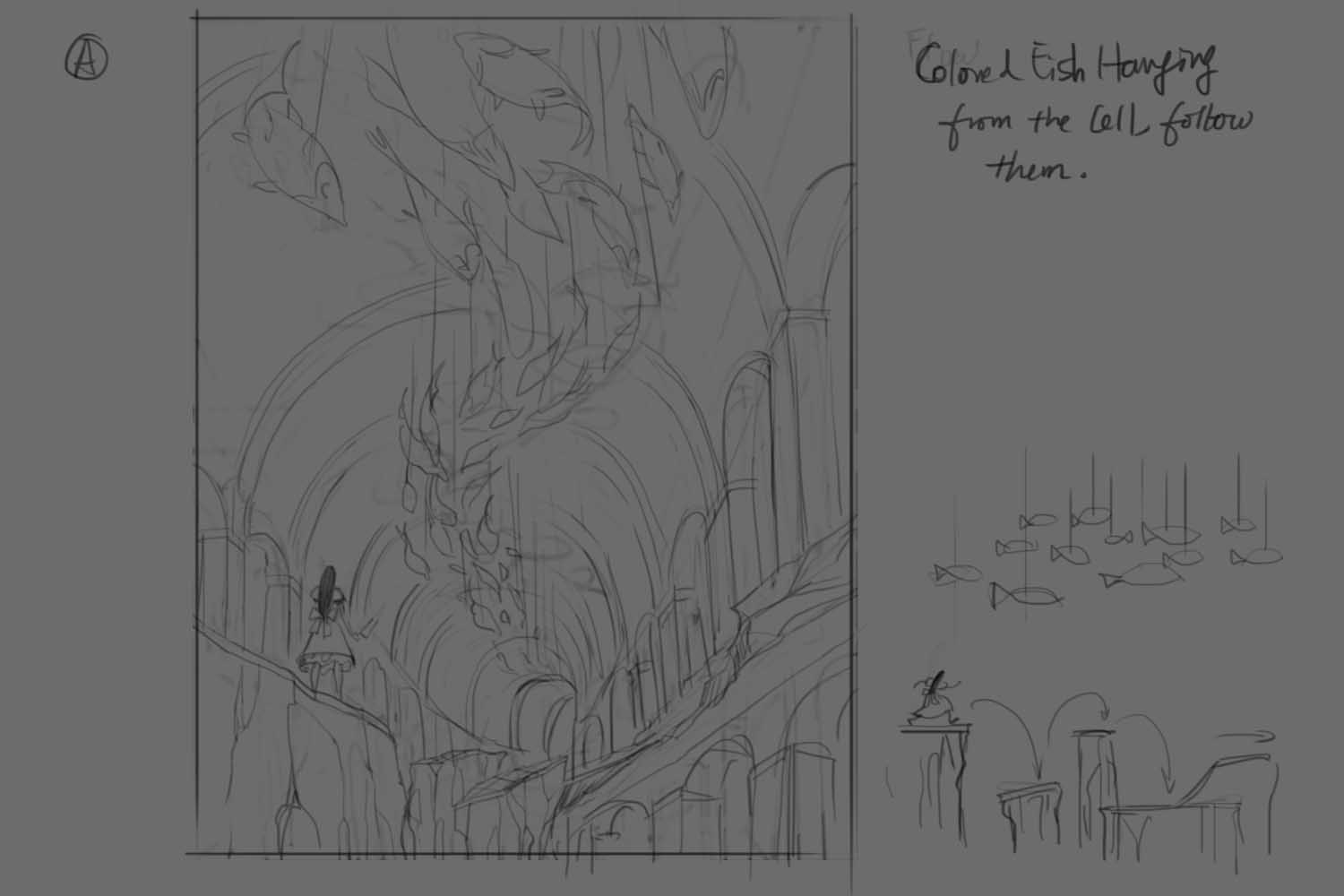 And a castle you navigate by following a school (flock?) of flying fish. Neat!
Meanwhile…
Making tons of progress towards Pirate Jam. Thank you, everyone, for your help in deciding on a flag for the event. I'll share a final version of that soon (maybe during the live stream tomorrow).
Did someone say live stream? Oh, yeah, LIVE STREAM tomorrow at 5:30PM PST (Thursday, 25th). Be there or be elsewhere! 
We received final proofs of the card designs for Out of the Woods. A sample…
I have to say… these cards in final form look "fucking ace" (I think that's what my Brit/Aussie friends say?)… I cannot wait to see them in physical form. We've also got hands on the physical box mock-up and can take a look at that during the stream tomorrow. 
Martin and I packed up the art rewards for January – the "Fire and Fury" prints. If you're on the list to receive an art print, then expect those to arrive in 20~30 days. 
Any thoughts on what we should print for February's art reward? Let me know in the comments below. 
And last but certainly not least, I want to take a moment to welcome our first-ever advertising sponsor, Freaky Fandoms. 
"We are Freaky Fandoms, a weekly podcast where we discuss movies, games, music and more. Feel free to listen to our episode all about American McGee's Alice and thanks for checking out Freaky Fandoms."
FF creators Andrew and Deborah have seriously supported all my creative endeavors over the past … 6~7 years… a long time! And huuuge support. So I'm really happy to have them on board with their own creative outlet.
Be sure to give Freaky Fandoms a listen and a "thank you" for their excellent support. 
See everyone tomorrow during the live stream. Be sure to leave your comments and feedback in the comments below so we can respond directly to all your awesomeness. 
From Shanghai with Brrrr, 
-American