Dear Insane Children, 
We just hit 1700 Patrons! That means we're only 300 Patrons away from unlocking the Chaos Coin. Yay! 
We did a marathon 3-hour livestream on YouTube yesterday. If you missed it, don't fret – you can check it out via THIS LINK. We talked about dresses, story, and answered a TON of Patreon comments.
Sadly, Martin's microphone was suffering mental issues. But we've since found the problem and fixed it. Thank you, to everyone who stuck with us through the technical difficulties. And a big thanks to Martin who had to endure not only a maladjusted microphone but a constant stream of abuse from me! Oh, the humanity! The drama! 😛
Here's the latest from Omri in response to our comments during the live stream: 
 1. I thought about chaos outfit that it should constantly change color nut i like the On/Off concept. But perhaps we can (i don't know if it's possible) to make the two styles constantly clash, appear and disappear.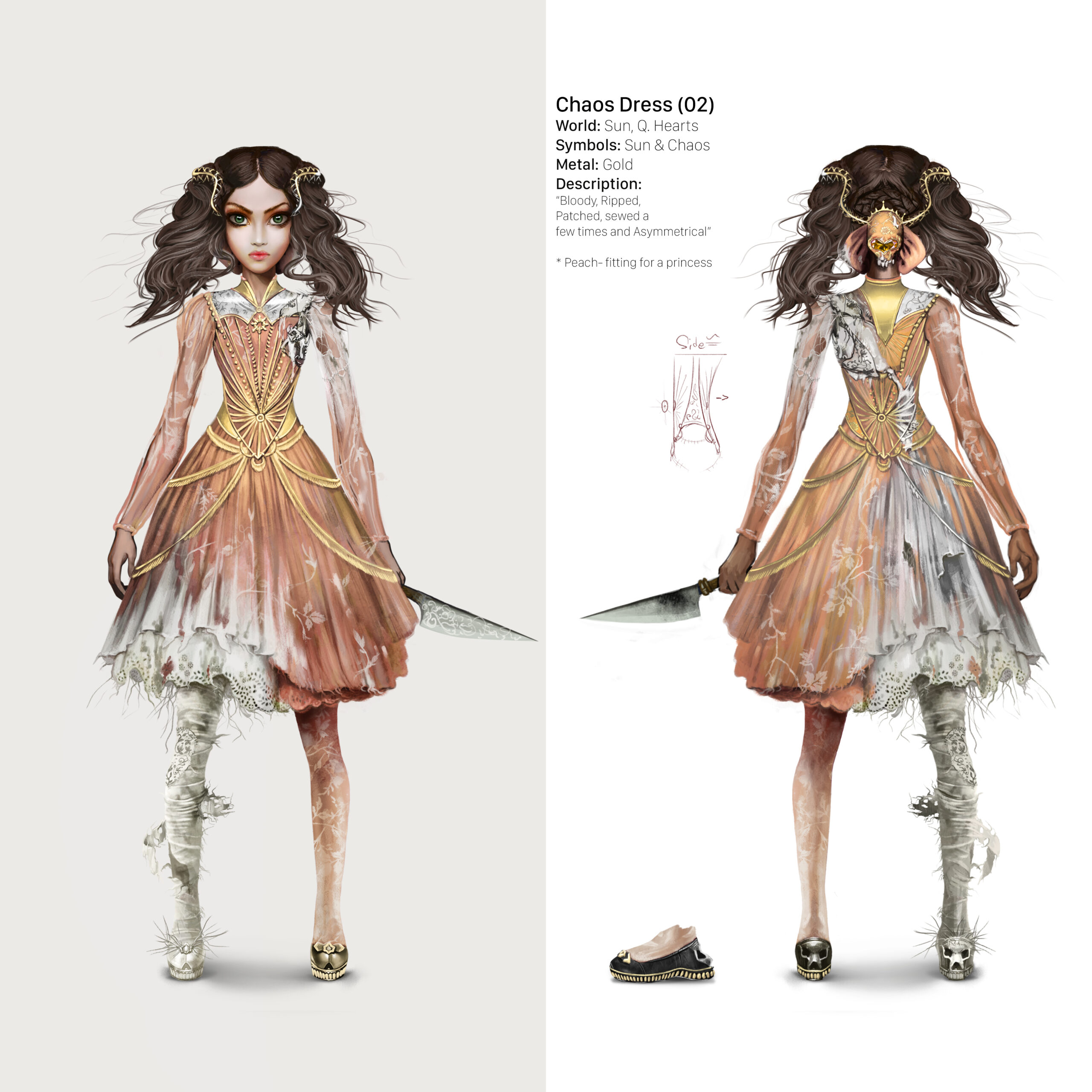 2. SUIT: Women wore suits after Coco Chanel at the beginning of 1900's, she also tossed the corset.Also all of alice's designs are very modern and they make no sense as for the "time" dresses didn't go above ankles and hair wasn't loose at all /: the Original Chaos hair is actually historically accurate.

3. i'll make a dress out of the Suit.

4. Taylor Goen
5. I will move to china to work on Alice3. no problem. 
6. Yes to lulu earrings and Tees.
Point 5 (in case you missed the live stream where we discussed this) is in reference to the idea that I'd like to start a Development Village out in Western China where we can get away from the big cities, enjoy nature, and build games at a reduced cost and under reduced pressure.
Point 6 is in reference to the idea that we produce and sell "Mysterious Lulu" products… 
So… I've just added "Mysterious Lulu" silver earrings to the Mysterious Shop and put them on a 48-hour flash sale – so head over and grab a pair before time runs out! Awww… Lulu 🙂
And Joey sends along a new version of the Alice "Asylum Group" image…
As mentioned during the live stream I'm off to Thailand on Sunday night for 5 days. Heading over to scout locations for Pirate Jam 2019. We need to find kayaking, rock climbing, snorkeling, and diving guides + spots. I'll be driving around (on land) between Krabi and southern Phang Nga in search of suitable locations and activities. But I expect we'll continue to make progress on Asylum art, story, and design stuff in that time. 
Look forward to your feedback and questions in the comments below!
From Shanghai with Lulu,
-American