Dear Insane Children, 
Actually, we've been here more than one night but tonight is THE NIGHT. Yan and I are heading to see Nine Inch Nails at MoonStar Studio. It's been over 20 years since I last saw Trent in person – back when we were doing sound/music for Quake. Lots has happened in the years since and it'll be fun to catch up! 
Over the weekend Yan and I ran around all the markets and malls in Bangkok collecting ideas for jewelry, art, and clothes – there's an absolute explosion of creativity in Thailand and they have some of the best workshops for creating stainless and silver earrings and necklaces. We're working to decide whether our next jewelry item (The Alchemy Necklace) might be made here or in China. Lots of great inspiration! 
Meanwhile our artists continue cranking out amazing new concepts. The main image (above) was sent by Joey. She's working through enemy and weapon (toy) ideas at the moment. I've just sent her a new list of ideas to play with – nut cracker, ball in cup, toy soldiers, etc. Are there any ideas YOU have for toys as weapons? Enemies from the old games you'd like to see brought to life in some interesting (pre-history) way? 
As usual, comments QUESTIONS and SUGGESTIONS are welcome! There will be a live stream this week on Friday – but likely later in the day so that our friends in EU can get in on the fun. More details on that coming SOON!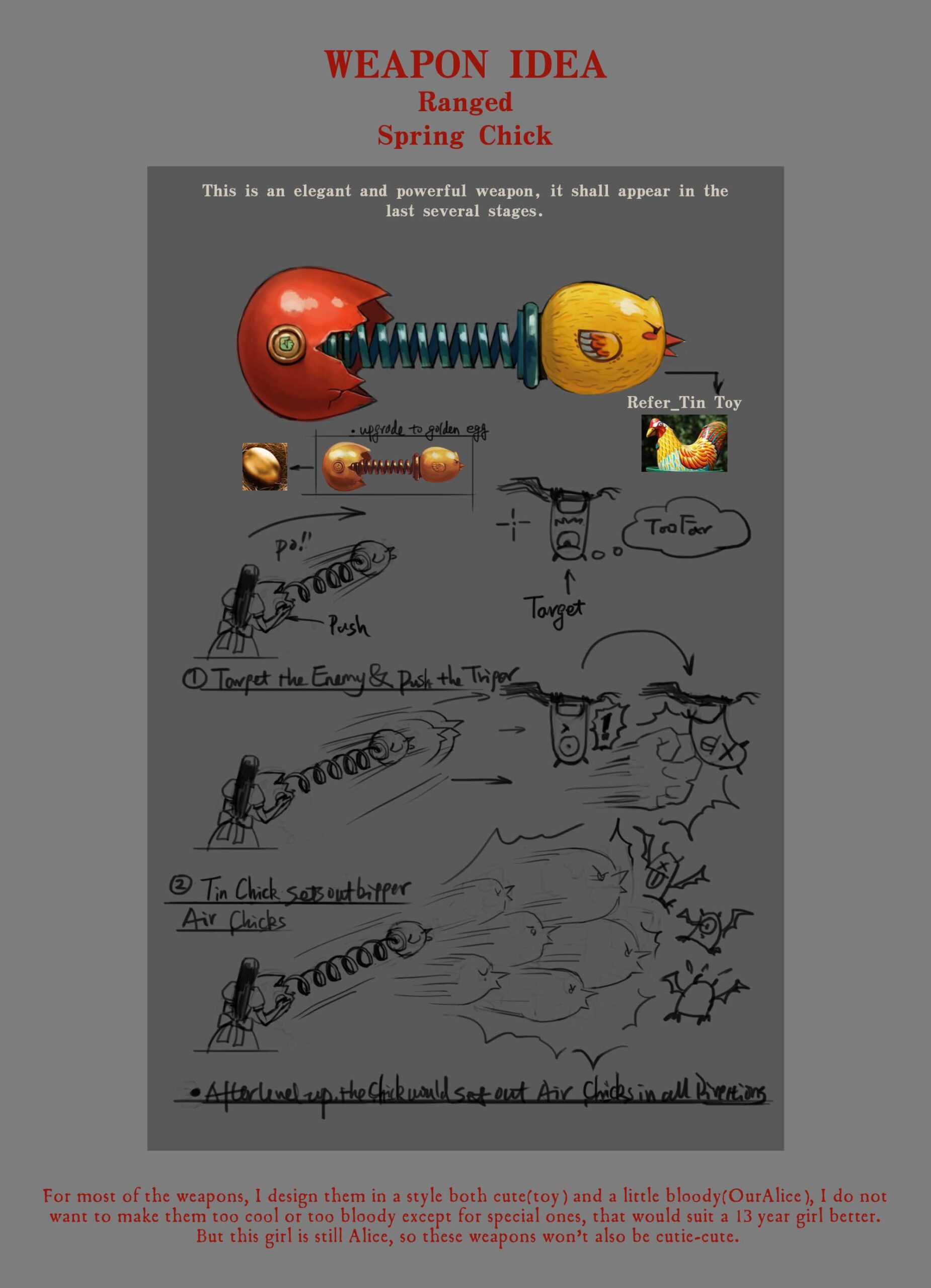 This is her revision to the "Fist Gun" we saw in the previous livestream. The variation still offers amble opportunity for hatching puns… but reduces their obscene hilarity. Cluck it out. Has she hatched a winner? Lay your feedback in the comments below!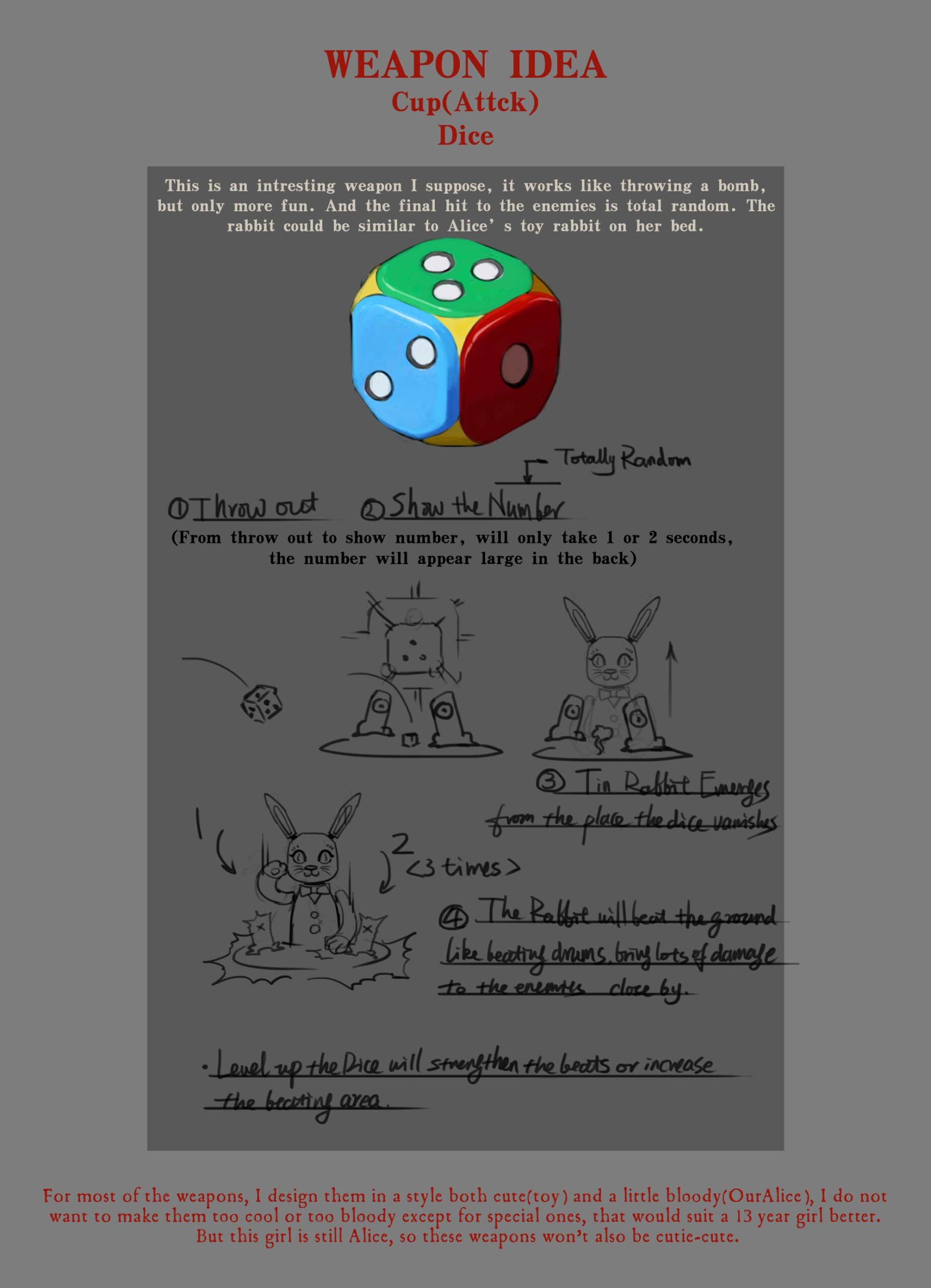 Those of you who follow me over on Instagram will know that the first two images were already shared there – turns out the Android Patreon App is poop when it comes to posting multiple images. So I was being sneaky and sharing images via Instagram 😛 
But this variation on the Dice is exclusive to YOU my Patrons. Yay! She's added a bit more detail with regards to how these work and what spawns out of them. I like the idea of a Giant Rabbit… this again takes me towards the idea of White Rabbit playing a very central role in this particular adventure. She's taking him along this time – which explains why we see her wake up with him in her arms at the start of AMA – and he's helping her find her way, fight enemies, and unravel the mystery of this particular adventure. 
In other important news we do have an update from EA! My contact sent along a message: 
I believe the tube arrived in Guildford for me so thank you in advance. I'm currently on vacation but wanted you to know.
I am having several discussions on email with key stakeholders in EA. I'm hoping we can have a chat to discuss a few more details in the next few weeks. If possible, I would suggest we speak post Gamescom so sometime towards the back end of week commencing 28th August if that's possible?
So… our guy is on vacation but we'll have a chat around end of August. Sound good to me. Progress is progress. 
For those of you new to this… the negotiation process – even when all parties want to do a deal – can take AGES. For example, it took over a year (16 months if I recall correctly) for us to get the deal in place for Alice: Madness Returns. Mind you, that deal included trans-national bond financing, international banking/loans, bond agents, accredited game production audit companies, heaps of lawyers… the final deal papers stacked up to 150cm high! I don't think we're looking at that sort of process or timing… but just warning you 😉
One thing to keep in mind… the more time we have the more preproduction we can do – the more art we can produce, story we can write, etc. From my perspective, more time (within reason), is more time to create and perfect our vision. Not a bad thing. So… let's hurry up and wait! Still lots of art to create, story to write, and GOALS to UNLOCK!
Goals! We are SO CLOSE to 2000 Patrons. As I write this we only need another ~120 Patrons to unlock the Chaos Coin Goal. Wooo! At the current rate we'll definitely hit that number before end of month. As soon as I am finished with this post I'm going to push another round of marketing and mailing list notification (ahem, spam). 
A lot of you writing to ask how you make sure you don't miss out on this Goal… What I might suggest is, at this point, if you are interested in the Chaos Coin, go ahead and set your pledge at $35 (or higher) and wait. If we somehow manage to get to End of Month (August 31st) without hitting 2000 Patrons then you will still have a few days to adjust your pledge back to your "comfort level." But chances are we WILL hit that goal and when we do, you'll be ready! Let the pledge process for end of this month (usually happens 5 days into the next month) and the Chaos Coin will be yours!
Now would also be a great time for YOU ALL to spread the word via your social media channels. Tweet about it, post it to Instagram, talk about it on Facebook. Feel free to share the images we've previously posted – you can find those on the Chaos Coin page over on Mysterious. 
Yan and Bangkok send their love. We'll be back with another update in the next few days. Again expect the next livestream on Friday late afternoon (Hong Kong Time) which will make it accessible for those of you in the EU-ish time zones. 
From Bangkok with ???????,
-American