Dear Insane Children, 
I won't lie. I like a good typhoon. Certainly not while out sailing or riding my scooter. But viewed safely from indoors with Lulu and Yan by my side (actually, Yan's at work right now; thank god for Lulu)… they can be a bit of fun. 
Shanghai is now in the middle of the 4th typhoon of the season – Rumbia. Kinda sounds like a drunk uncle of one of those floor cleaning robots. And it looks a bit like this…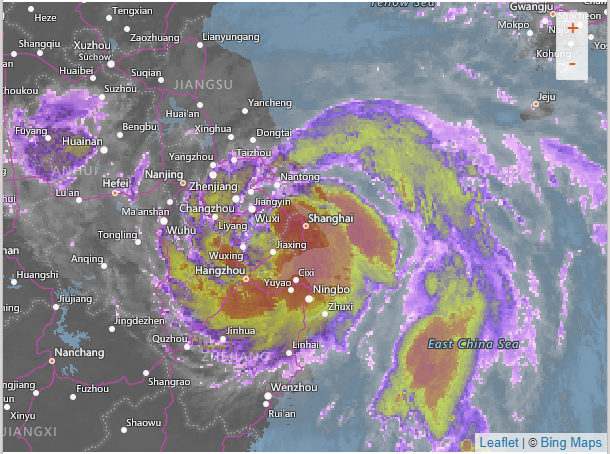 Only problem is that Martin, being way over on the other side of Shanghai, doesn't want to risk drowning so he's staying home and won't be on tonight's YouTube livestream. I don't blame him. Blub, blub.
Assuming I don't blow away in the typhoon, I'll still be there with Lulu, and we'll have Martin in the chat. Let's see how that goes. This is a special EU-friendly time (7PM HKT, 12PM BST). 
Zzzzzzz…
But why are we talking about the weather when we have an AMAZING new dress from Omri to comment on!?!?! Seriously…
This might be my favorite new dress of them all. First off, it's all BLACK. Perfect! There are two distinct modes. Wow! It's got "shiny everything" – which, let's face it, everything needs. Great! And it's literally The Death Dress… which I don't think can get more METAL. So, yeah, this is my favorite.
It also has me thinking… maybe all the dresses need two modes? I wrote to Omri about this… saying that we could imagine a 'normal' mode Denial Dress similar to what's already been presented; and then a 'chaos' mode of that same dress where everything is on fire, smoking, and burnt. Not sure where we might take this idea… but something to ponder. 
And then there's… 
Which is Omri's take on The Jabberwock Dress – the outfit she's wearing prior to going into battle with the Jabberwock. We showed this during the livestream last week but I'd not yet had a chance to post it here on Patreon. Naughty, American! 
We heard many of you loved the presentation of the Bargaining Suit and wanted some elements of that maintained somewhere in the game, so this is an attempt at honoring that request. What do you think? 
Do the Thing
Again, livestream tonight. 7PM HKT. Hit that link and set a reminder. 
While you're over there, please hit Subscribe. I'm just inches away from 20k subscribers on YouTube 😐 
And you know I'm on Instagram as well? We share a bit of cosplay, lots of Lulu pics, and other fun stuff over there. Please follow! 
See you all tonight! 🙂 
From Shanghai with Rumbia,
-American (and Lulu)