Dear Insane Children, 
Want your very own "White Rabbit Plush + Rutledge Asylum Property Bag" collector set?
THIS PROMOTION IS OVER
IF YOU MISSED IT – DON'T CRY – YOU CAN STILL GET A RABBIT PLUSH SET
JUST VISIT THIS LINK:  The Mysterious Store 
 ****  ****   ****  ****   ****  ****   ****  ****   ****  ****   ****  ****   ****  ****   ****  ****  
 THIS PROMOTION IS OVER 
When we reach 3222 Patrons here on Patreon we'll unlock the set at an Early Bird price of $45.
Here's how you can help us reach 3222 Patrons and get a White Rabbit Collector Set of your own: 
1) Pledge NOW at any level – even $1 a month (there is a tier for that!) 
2) Wait until we hit at least 3222 Patrons (we'll send out notice when we do)
3) Increase your pledge to $45 (or more) for that month (use the Custom Pledge option)
That's it! For a month or two at $1 plus a month at $45 you'll get a White Rabbit Plush express-mailed anywhere in the world (FREE SHIPPING with tracking is included), the Rutledge Asylum property bag and…
A Patreon Special embroidered Lulu Patch! *(Lulu not included)
And…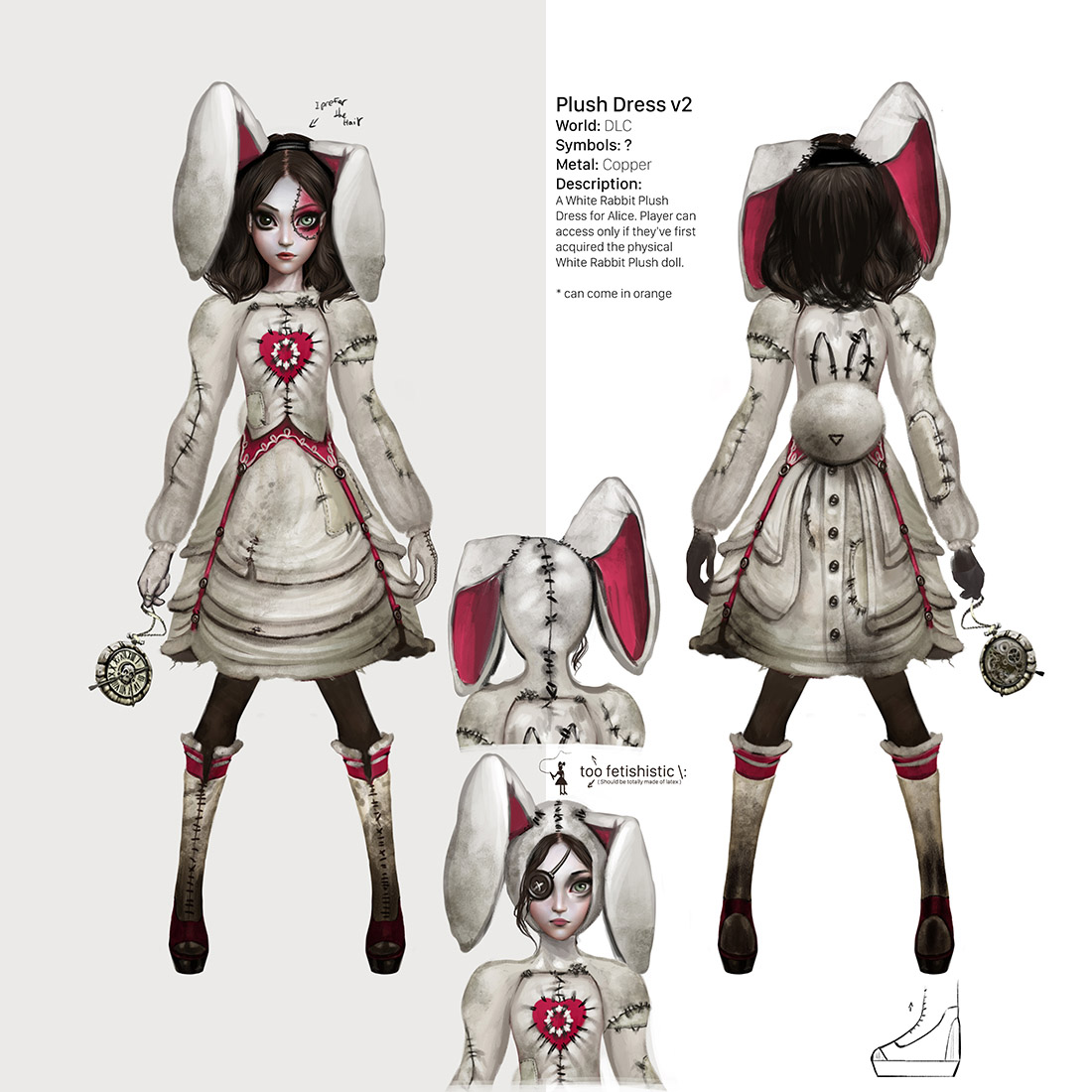 A downloadable Rabbit Dress for Alice: Asylum! You'll get Early Access to the Plush Dress and be the first to hop around Wonderland like a mad bunny!
That's a White Rabbit Plush, Rutledge Asylum Property Bag, Lulu Patch, and in-game Plush Dress, shipped for FREE with tracking anywhere in the world for only $45. Crazy, insane, and easy! 
And, as a Patron, you'll gain Early Access to Patron-only posts, artwork, design discussions, and more. At $5 a month you can also access our super-secret Discord Server where the Insane Children gather to discuss all the insane things! 
The White Rabbit Plush is the result of crowd-design efforts here on Patreon. 
That's a "life size" (~30cm tall) White Rabbit Plush collectible inspired by the rabbit we see Alice carrying. 
Here on Patreon you'll be able to get this at an Early Bird Discount Price. If you miss that, don't worry! We'll also have it for sale over on Mysterious (but it'll be more expensive). 
Don't be late! 
Hit THIS LINK and become a Patron NOW! 
From the Rabbit Lair,
-American (and Lulu)