Dear Insane Children, 
Omri's back with a revision of the Rabbit outfit. This time it's a onesie! And, yes, it can come in orange. 
Give us your feedback and suggestions in the comments below.
Keep in mind that these images are Work In Progress. 
Also WIP is the concept that we might attach this in-game clothing item to the physical White Rabbit Plush – as in, "You need to purchase the Plush in order to unlock the in-game clothing." 
I've seen more than a few strongly emotional reactions to the idea of exclusive DLC linked to a real world item. Not sure I fully understand what's going on there… seems there's a fear of missing out (for people in the future who weren't aware of this deal when it was proposed)? Also some sense of wanting to complete all the acquisition of stuff in-game but not wanting to participate in the collection of physical items outside of the game? 
I am uncertain how this squares with how we presented the Chaos Coins… those to are physical items with exclusive in-game content attached. And I don't recall any sort of negative reaction to those.
Anyway, it's not yet decided… so let's discuss the issue and come to some sort of resolution. I'd like to be able to link physical items with in-game items… and would like to have some understanding of your sense of "bad" ways to do this… and good solutions as well. Thanks!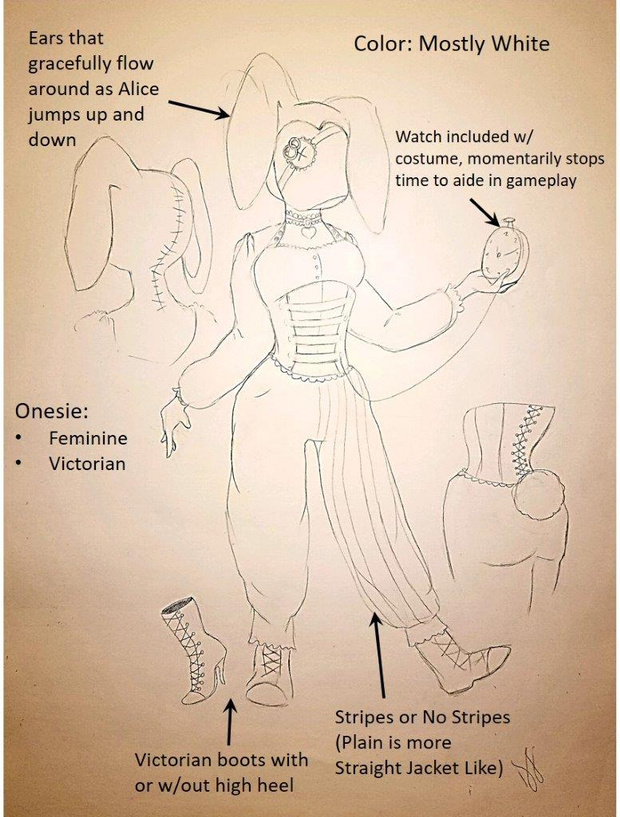 Patron "Fred and Desiree" shared this mock-up of a Rabbit Onesie over on our Community Page. If you have ideas, you can always share them there. We love seeing the creativity of our community! 
Only 500 To Go
We're only 500 Patrons away from unlocking the White Rabbit Plush Collector Set and adding about 50~100 new Patrons per day. Spread the word! If we keep up this pace we can unlock the reward this month. Yay! 
From Shanghai in a Onesie, 
-American