Dear Insane Children, 
We're set for another YouTube Livestream and hope you'll join us for the fun!
We'll review the latest art, story, and design for Alice: Asylum and (if we have time) continue our play-through of "Sea of Solitude." It's (roughly) the same time as usual… 
Thursday at 10AM (Hong Kong Time) or 7PM on Wednesday for those of you in the US. 
Hit THIS LINK (or the video above?) to head over to YouTube and set a reminder.

Crowd Design Session #15
For those of you who missed it – or those of you who joined but just want to hear the sultry sound of Connor's voice – we've uploaded this week's Crowd Design Session to YouTube. 
Hit THIS LINK to check it out!
As always, a huge THANKS to our Insane Children and Mods for helping organize and contribute to these sessions. And a special Thanks to Asteria Visual for helping capture and edit the AV for these uploads.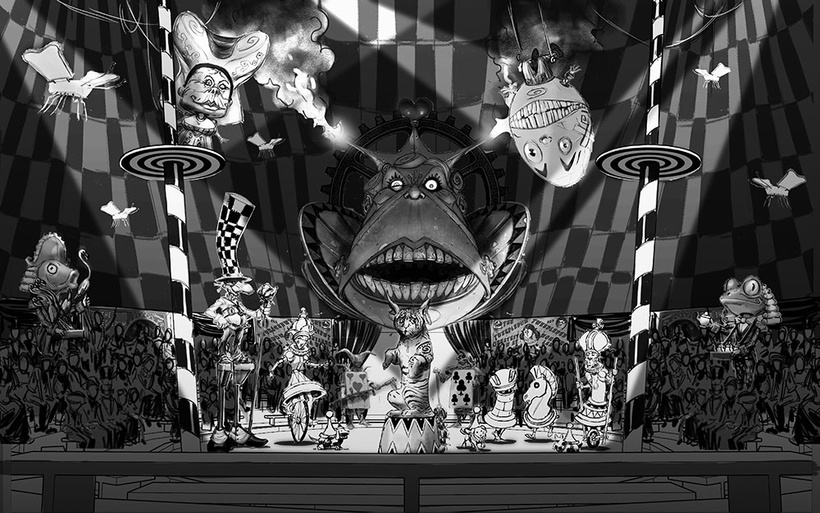 The Show Must Go On
Have you ever listened to or watched Pink Floyd's "The Wall?" If not, do. It's a masterpiece. 
And when I see these images from Norm… especially that Giant Queen Head lording over the circus ring…
So ya
Thought ya
Might like to go to the show
To feel the warm thrill of confusion
That space cadet glow
Tell me is something eluding you, sunshine?
Is this not what you expected to see?
If you want to find out what's behind these cold eyes
You'll just have to claw your way through this disguise
Lights, turn on the sound effects, action
Drop it, drop it on 'em, drop it on them
When I think about turning Alice into a sort of musical-rock-opera… it's The Wall that always comes to mind first and most vividly.
I listened to this album so many times when I was a kid and growing up. It's probably subliminally infused in every creative thing I've ever done since.
Pretty sure Norm's been mainlining Floyd for a while as well 😉
Any other fans in the audience? 
As always – Feedback and Suggestions in the Comments below!
We'll see everyone tomorrow!
From Shanghai with Another Brick in the Wall,
-American