Dear Insane Children, 
Seems Dormouse is really sticking it to us for the Year of The Rat!
Lots of my friends, family, Pirates, and Insane Children writing to ask for updates on the situation in China. As many of you are aware, there's an outbreak of Coronavirus which originated in Wuhan and is spreading to other parts of China and the world. You can read live updates via The NYT.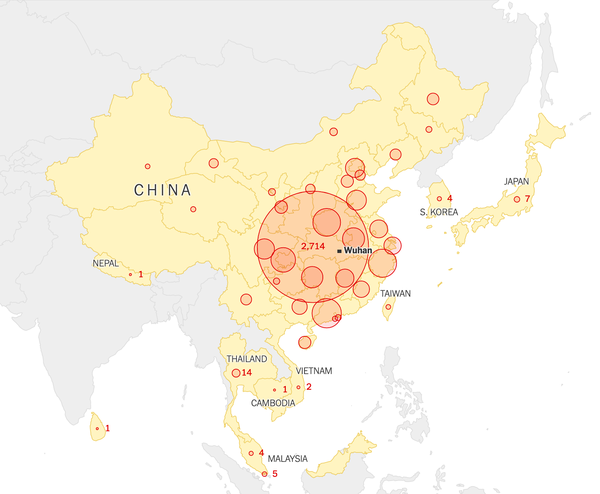 In addition to the millions of people in China who are currently suffering through a lockdown, this situation significantly impacts me, my projects, and my friends and family since we are based in Shanghai and we do business around China and Asia. 
For me and my family… I am currently safe and on my own in Krabi, Thailand after a Chinese New Year sailing/diving trip. News of the outbreak first reached me while sailing around remote islands far away from civilization. I suppose if you must go through a viral/zombie apocalypse that being on a sailboat in the middle of nowhere might be a good place to be… but with Yan and Lucky back in Shanghai, it's been difficult for me to take in solace in my isolation. 
Yan and Lucky are OK. Like millions of other people in China, they are staying indoors and will be safe there. They have plenty of food and water. And Yan's mom is there to help with the baby and house chores. Martin naturally stays indoors at all times and so likely hasn't noticed anything unusual going on. 
We are all safe and healthy. And your concern and well wishes are very much appreciated. 
For our business and projects… China has imposed a mandatory extension to the Chinese New Year holiday period to February 10th. And extended the holiday for schools until the 17th. 
This means that the services we use to produce, fulfill, and ship orders (both to Patrons and to Mysterious customers) are also suspended until the 10th. If you've ordered something from Mysterious in recent weeks or are waiting on a Patron Reward, please be prepared for delays. Things will eventually start moving again but I imagine we're looking at a 30~60 day delay in these systems. 
I have seen some trolls on Twitter suggesting that it's unsafe to order things from China due to the risk of this virus being carried to your doorstep in the mail. This is Not A Thing. Viruses cannot live on exterior surfaces for more than 3-12 hours. Plenty of articles out there debunking this myth like This One.
Going Foward
As I write this update there are more and more airlines (16 right now) canceling flights to/from China. I'm not scheduled to return to Shanghai until next week (Feb 5th) but have no idea what the situation will look like a week from now. Will all flights to/from China be canceled by then? Does it even make sense to risk exposure by traveling, sitting on a plane for 5 hours, going through immigration in China – and risking quarantine – when I am already scheduled to return to Thailand for Pirate Jam at the end of February? Maybe it's better to just sit tight here in Thailand? 
Right now I can't answer those questions but am keeping an eye on the situation and will try to make the right decision at the appropriate time. 
Pirate Jam 2020 is scheduled to kick off on March 2nd, 2020 on Phuket here in Thailand. Unless this situation turns into a global pandemic and shuts down all air travel around the globe, then I don't expect it to have a significant impact on Pirate Jam. The only people scheduled to attend Pirate Jam flying from China are myself and Yan… but I am already here in Thailand. And if Yan can't make it, I'll be sad but I'll find a stand-in Pirate Assistant. 
Last but not least, work on Asylum will continue as per usual. Our artists will continue to crank out new images while we work on design and story. If I am stuck here long term then we'll figure out some sort of remote Livestream and Crowd Design solution. And I am able to keep my upcoming Business Development calls in place regardless of where in the world I might be. 
Despite everything – and my feeling out of sorts about being away from my family – I suppose I should be thankful that our method of work lends itself quite well to this type of situation. We all work from home and mostly hide inside anyway. And your support continues to flow and make that work possible. So, thank you, for making our business sustainable through these tough times. 
That covers everything I can think of right now. 
"Tragedy" is an overly appropriate Art Print to select at a time like this. And so this will be the Art Print for January 2020 (AKA the pledges processed on February ~5th). So if you're interested in this print, jump in now! It's a beauty!
PS: I will post another update in the next 24 hours which contains all the new artwork being produced by our team for Alice: Asylum. 
From Thailand with Love, 
-American