Dear Insane Children, 
If you've seen the relevant section in "The Art of Alice: Madness Returns" you'll know that the development team really struggled to define the look and feel of Alice's face. Ken Wong directed a multitude of studies by various concept artists and illustrators – trying on different art styles (painterly, photo-realistic, caricature) combined with various facial expressions, themes, and "modes" (asylum, London Streets, Wonderland). 
This was a protracted and frustrating process for everyone involved. Mainly because many of the people involved had very different ideas about what Alice should look like – and why she should look that way. For many, it was a chance to stamp their impression (brand, name, style) on the game's most visible asset. For others, the issue was simple: Make her Alice. 
After months of false starts, barely any glimmers of progress, lots of weird-arts "stuff" getting made, I felt that the wider team's frustration levels had reached a plateau. Calls for sensible exploration were being ignored. Lots of time was being wasted. And lots of processes being held up because we didn't have a solid definition of our main character. Enough! 
I put my foot down. I seem to recall making a pretty serious ultimatum on the topic… basically a "my way or the highway" moment with one or two of our key art staff. After that, things improved. 
All of that is meant to explain the critical nature of the decisions we're now about to make. I don't know if it has to be difficult. But I do know that it's important – and for good reason. 
What does Alice look like in Alice: Asylum? 
A couple of points to keep in mind before pondering this any further. 
First, we're seeing Alice through the lens of her own mind's eye. Everything happening in Alice: Asylum happens inside the mind of Adult Alice (the same Alice we see walking away from the train station at the end of Alice: Madness Returns). How would 24-year-old Alice view her 13-year-old self?
Second, 13-year-old Alice is the 'avatar' of Alice's adventures in Asylum. This is the Alice of 1865. She's spent a year "nearly comatose" in the hospital. And is now at Rutledge Asylum. Between 1865 and 1873, Alice will remain in a coma – shut off from the real world. This is the period in which "Asylum" takes place. (No, we will not see Alice age or grow physically during this period). 
Third, we need to define Alice now so that progress can be made on other aspects of the design and art which link to her body, face, and overall look. There's an opportunity for us to generate a hi-res 3D model of Alice – something we could use for our sales pitch and marketing. That may even help open the door to building an actual playable demo (more on that later). 
Lastly, it might help to keep in mind the story of Asylum – especially the fact that she's been living in a false reality of illusion and denial. When you imagine yourself, do you see an idealized version or something less than? Given her state of mind, who do you think Alice might see herself?
So, with all of that in mind…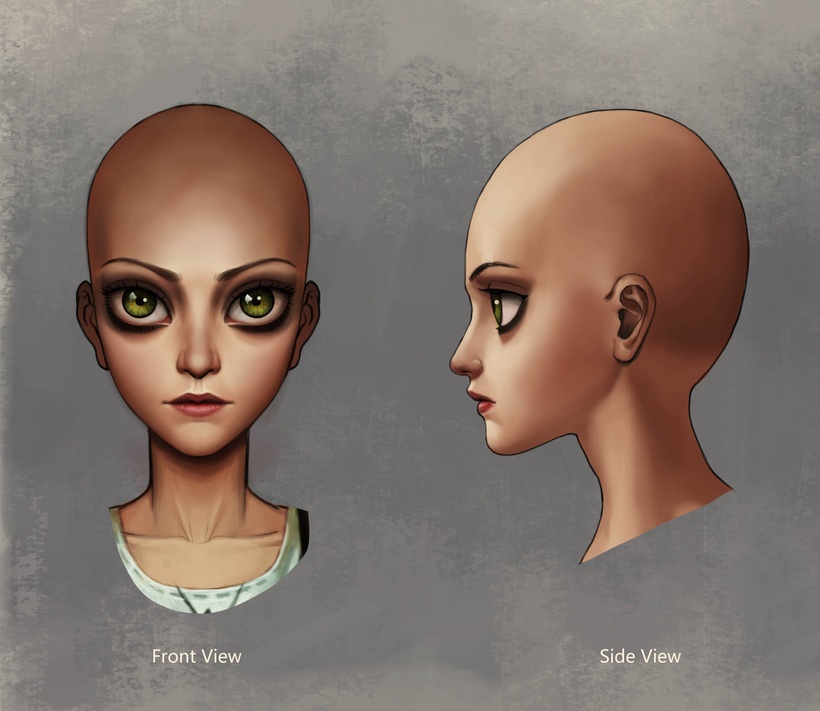 Think about the shape, proportions, style, and "feel" of the concept images provided by Joey. Don't be bothered by the lack of hair – that's just a technique for clearly defining the shape of her head. Sit with the images for a while. Maybe you'll print them out, as I did, and hang them on the wall. Live the images for a while and form a meaningful impression. 
Once you have some thoughts, share them in the Comments below. We'll read those during the Live Stream this week. 
Live Stream
Same routine as always. 7PM on Wednesday for those of you in PDT. 10AM on Thursday for us here in CST.
We'll host the stream over on my TWITCH CHANNEL (hit the link to visit and subscribe). 
 https://www.twitch.tv/americanmcgee 
If you miss the stream live you can always watch the recorded show over on my YouTube Channel.
 https://www.youtube.com/americanmcgeeofficial 
NOTE TO EU PATRONS: We know we need to host a stream to fit your time zone. We'll do that soon… it's just difficult for me these days because I have to get up at 4:30~5AM each day to take care of Lucky. And am usually in bed (no joke) by 8PM. An hour of reading and then it's Zzzzzzz… 
PS: This post's title is borrowed from "The face is a picture of the mind with the eyes as its interpreter." – Marcus Tullius Cicero
From Shanghai with Eyes, 
-American