Dear Insane Children, 
Let's get the Bad News out of the way first: 
There will be NO Live Stream this week. Sorry! I have guests coming to my home studio on the same day we normally stream. And several other things going on in the days surrounding… so it's best if we just move it to the following week – Thursday, September 2nd (HK Time); Sept 1st (USA Time). 
But that's OK… because it will give us more time to collect and read your feedback on the Alice: Asylum Narrative Outline. You are aware we published that and are now doing Crowd Design on the story, right? RIGHT?! 
So far we've received some really excellent comments and feedback from our Insane Children. Thank you! We are reading everything you send it – and a lot of it really resonates with things Alex and I have been talking about. Feels like we're all on the same track! Yay!
In the meantime, the art and design continue to flow! Here's an excellent sketch of The Carpenter from Norm. Of this Omri says: 
he looks 50. I love the face, body- he's too thick. He needs to be slim/skeletal very long, like a dancer. Everything else is spot on.

Google doug jones. The actor.
Hey, Omri… I'm almost 50. What are you trying to say?!
Adam also sent over this series of sketches for the scene where Alice fights the Jabberwock. Which do you like best? 
At this stage, with the Narrative mostly outlined, Alex will be able to load up the artists with the tasks that take them towards the end of the Design Bible. Expect a ton of cool art in the coming months as they fill out those sections!
We'll discuss all this and more – next week! 
Again, I just want to take a moment to express gratitude. Our Insane Children have not only enabled our team to create all this great content but you're also helping to prove a new model for game development. I laughed when I saw this Tweet from the lead writer on Fable, Anna Megill: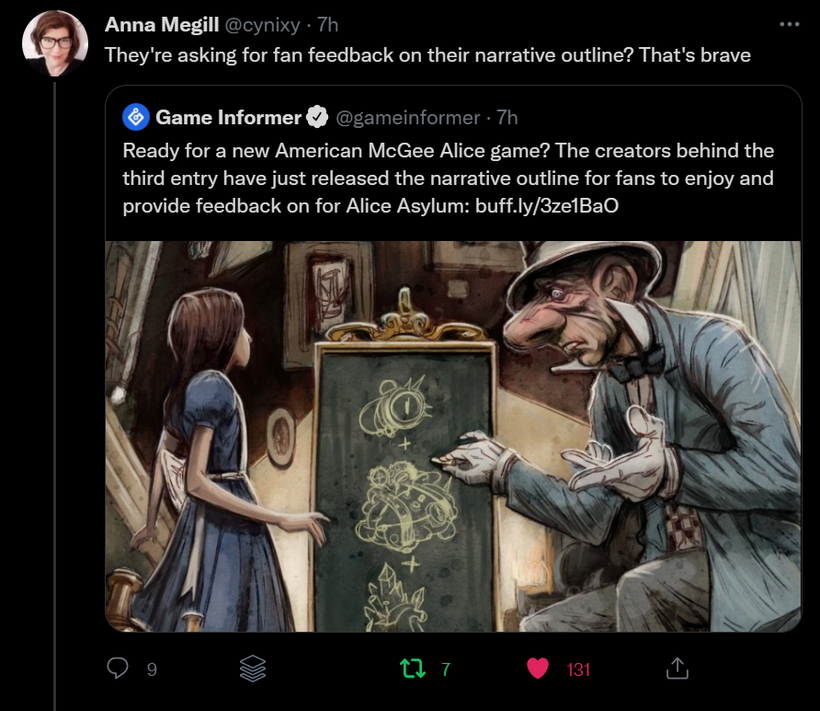 Well… it is brave! Brave of you to support something so insane. To put your trust in creators and lend them financial support. To get behind an untested model of developing creative content in the public square. It's brave because it's essentially trying to prove that the Old Model isn't the only way. And, as we all know, change isn't easy. Even just trying to convince people that there might be *another way!* is difficult. 
So, thank you, for being brave. We could not do this without you! 
From Shanghai with Love, 
-American