Dear Insane Children, 
Want a Chaos Coin Shipping Update? Scroll Down! 
Here's your early reminder for Part 1 of our Halloween Livestream Specials…
Chris Vrenna will join myself and Font Lord on October 24th @ 6PM (PST)

CLICK HERE to set a reminder over on YouTube. And be sure to Subscribe, Like, and all that… so the YouTube algorithm has more data to ignore. Better yet, set a reminder on your phone or microwave – probably more reliable than YouTube :/
For those who don't know… 

Chris Vrenna, (born February 23, 1967)[1] is an American musician, Grammy-winning producer, engineer, remixer, songwriter, programmer, and founder of the electronic band Tweaker. Vrenna played drums for the industrial/rock band Nine Inch Nails from 1989 until 1997, and was the keyboardist and drummer of the American rock band Marilyn Manson from 2004 until late 2011. 
I've worked with Chris on a number of projects including "Quake" and "American McGee's Alice" – to both of which he contributed music and sound. He composed the entire soundtrack for "American McGee's Alice." 
Check out this Interview With Chris from back in 1999 where he talks about his work on Alice music.
During our livestream we'll talk about music, games, and more. If you have a QUESTION you'd like addressed during the stream please mark it as "QUESTION:" in the comments below. SUGGESTIONS: and FEEDBACK: also work!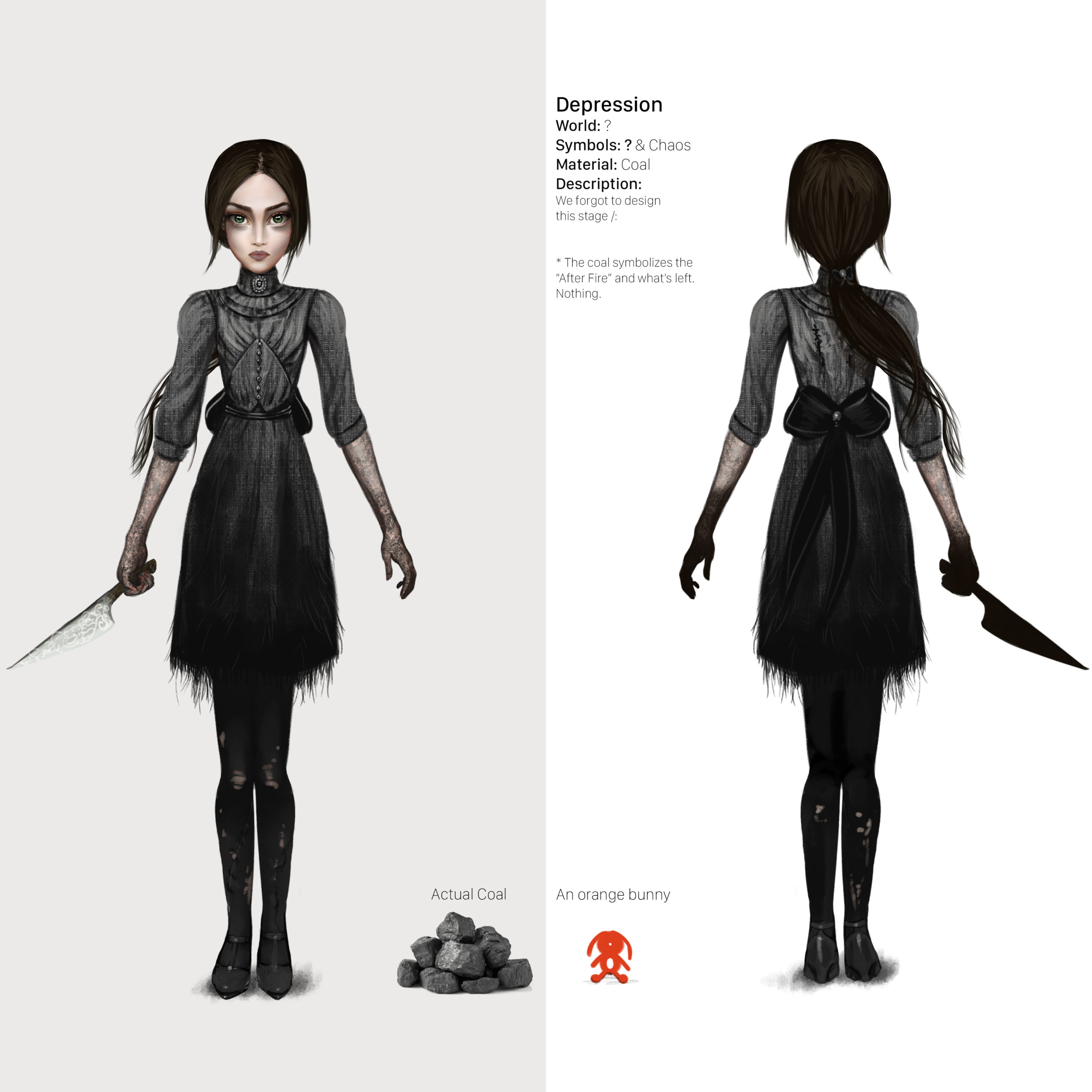 This is The Depression Dress from Omri. And I think it's wonderful! I also love the Orange Bunny. He might need to be "a thing." 
Do you know who is currently wearing a Depression Dress? 
CHAOS COIN CHAOS
Our Fonty Lord and Savior, Font Lord is wearing a Depression Dress. Can you guess why? 
Well, it turns out that the recent Chinese National Holiday caused ~50% of the Chaos Coin shipments to go out ~2 weeks later than we'd expected. As a result, our estimated delivery times for those coins have been pushed out by 2+ weeks. 
SO, here's a request: 
Please, STOP emailing to ask for tracking links. Give the delivery another 1+ week. 
With about 1/2 of you (1000 people) writing to say, "Um, sorry to be a bother but…" we're getting about 2~5 such requests per hour. Poor Font Lord is answering emails in the shower, on the toilet, while sleeping, etc… and he still can't keep up. 
Here's the thing: Every one of the requests results in a tracking link and "it should arrive in 1~2 weeks, please be patient." There's nothing more to it. The coins are on the way! 
Set a new "freak out, I need a tracking link date" in your head: October 31st. 
If you still don't have your Chaos Coin by THAT date, then email and ask for a link. 
THANK YOU! (Font Lord releases a sigh of relief). 
We do appreciate your patience and understanding with this. And apologize for not properly taking into account the disruption that would be caused by the national holiday here in China.
That's it for now. Please be sure to join us for the special livestream with Chris. And get ready for the Halloween Special where we'll have Roger Jackson (voice of the Cheshire Cat) with us on October 31st! 
Be sure to leave your QUESTIONS in the comments below!
From Shanghai with Love, 
-American (and Lulu)