Dear Insane Children, 
I hope everyone had a wonderful weekend wherever you are! Here in Shanghai, we celebrated Lucky's 100 Days and birthdays for myself and Yan's mom. Which made it a busy weekend full of babies and balloons. Yay! 
Back in the Asylum… 
Crowd Design Delay
We're moving our next Crowd Design Session to Thursday, Dec 19th, afternoon PST (Friday morning in Shanghai) so that one of our Insane Children Mods can be there to help with recording. I'll send out a proper notice with the topic, time/date, and info on our Discord server with the next Patreon Post. Apologies for the delay! 
Another Insane Plush
Since we've finished Crowd Design on the Enamel Pins and will wait to start promoting those in February… I was thinking we might start looking at what comes next for a Collector Plush. 
Omri reminds me that we previously held a vote on this topic and that Denial Dress Alice won… but I really have my heart set on a little Asylum Alice Plush. So I asked Omri to take another stab at the design of the Asylum Alice Plush… which you can see above. 
For any new design, we'll seek out a new factory. I felt that we were hitting the technical limits of what the previous factory could do in terms of materials, shapes, and quality. And I'd like to push to make these plush dolls better and better as time goes on and we gain experience.  
Let us know in the comments below what you think of this design. Would you like to place this in the collection with your Cheshire Kitten and Rabbit Plush? 
Enamel Pins
The factory sent along an image to show where they will place the studs on the pins.
I did read a comment from someone on my Instagram who suggested that some of these larger pins might require two studs. That note was sent to the factory as soon as I read it… but they claim the molds have already been made. Too Fast! 
So we have to hope that these placements work and that one stud per pin is sufficient. 
We should have samples in hand soon. At that time we'll take pictures, talk about the designs, and see if any revisions are needed. 
Mad Chaos
Our new addition to the art team is making excellent progress with his exploration of Hatter's Domain. Dario sends along a number of early sketches to show what Hatter's "exploded" domain might look like. And what the remaining structures look like floating around in the debris cloud.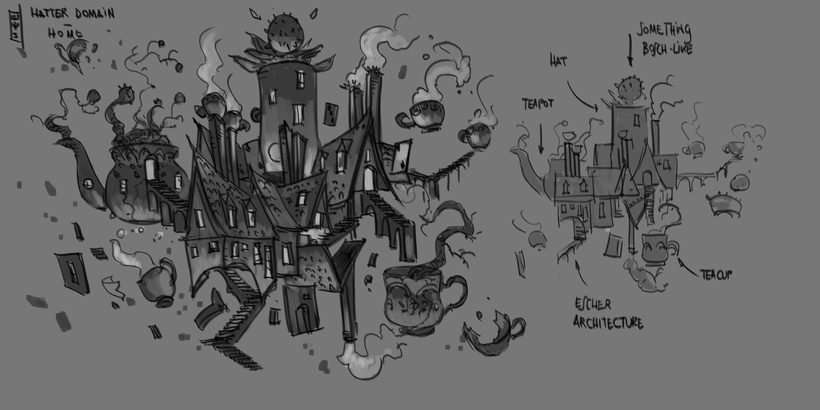 Finally! We're starting to see what Hatter's Domain looks like with all these elements blown to bits and left floating around in a chaotic space of weightless weirdness. Yay!
Expect to see these fantastic locations detailed and colored in the next pass. Can't wait!
Dario also sent along this final color render of the Queen of Hearts Castle. So much "floating in space" goodness!
Oink!
So Hatter's domain is this place where space and time have been blown apart. Where Alice's imagination has come truly unhinged. So what sort of nightmares might a little Victorian girl imagine when the physics of her imagined reality are turned upside down?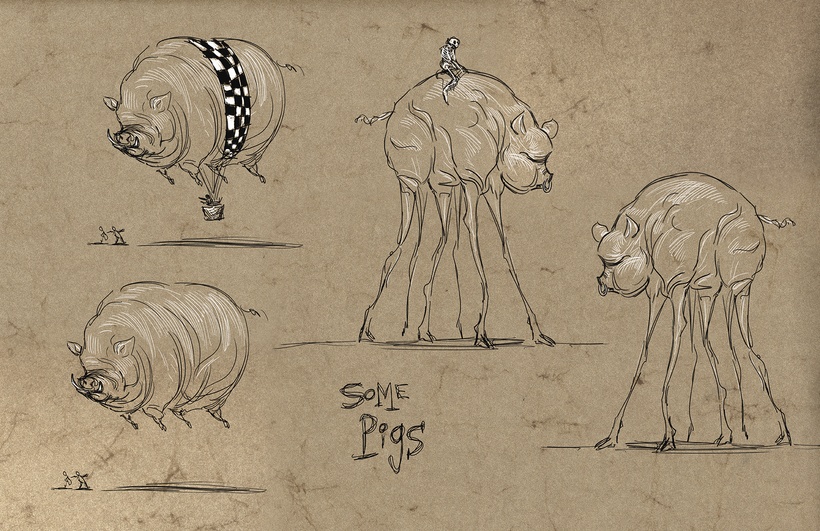 Yeah. Some Pigs. 
There's more of this where the pigs came from. Norm has created some FANTASTIC beasties to inhabit the ruined reality of Hatter's Domain.
But more of that… in the next post! 
Let the team hear your feedback in the comments below! 
From Shanghai with Oink, 
-American