Dear Insane Children, 
It's Wednesday here in Shanghai which means tomorrow is Live Stream Day!
Hit THIS LINK to head over to YouTube and set a reminder for the big event.
PLEASE HELP ME – check the scheduled time for the event. It should translate to 10AM on Thursday, December 19th Hong Kong Time. But the YouTube Livestream setup stuff is Really Crap (TM) so it's impossible for me to know if it's set correctly.
That should be 6PM PST on the 18th for those of you in the USA. Check and see if it's showing up correctly. Thank you!
And be sure to share your feedback and questions in the comments below. We like to read those out during the live stream.
Shattered Wonderland
We'll continue our exploration of Hatter's Domain – the narrative, art, and design for a location really central to Alice's adventure in Asylum. 
There's so much great art pouring in for this area. I love it!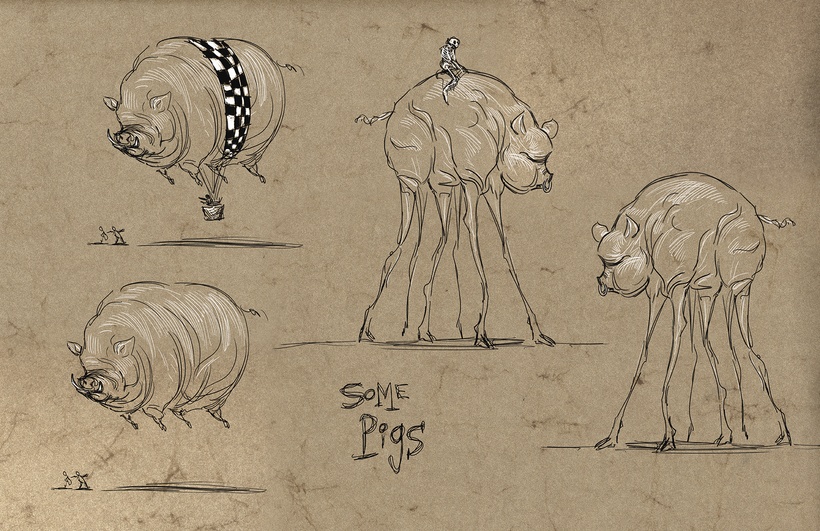 These exploration of possible enemies we'd find in Hatter's Domain are excellent. Norm is riffing off the idea that Hatter's experiment upended the rules of reality and caused all the normal forest creatures to combine and mutate into Lovecraftian nightmares. 
Combine these beasties with locations like the "floating island" illustration from Joey (main image above) and you start to get a real sense of how wild this area of the game can be. 
Plush Politics
Lots of debate happening behind the scenes with regards to what we might do for our next Plush Doll design. And lots of example art and concept images to support the various arguments for-and-against all these ideas. 
Please join the stream tomorrow so we can discuss these things in real time with YOU our Insane Children! 
Nothing like a good debate! 
See you soon!
From Shanghai with Mutations,
-Amerilulu