Dear Insane Children, 
Last weekend, I went into the city with Lucky and Yan to meet friends for lunch. Some of the other kids at the get-together were sick with a cold; so Lucky and Yan got sick immediately. My immune system fought valiantly for a few days… and then I got sick. Bummer… since then, I've had body aches, sore throat, and … some form of brain-damage. Not really brain damage, but it certainly feels like it. I'm often confused about what I was in the middle of doing; am doing common tasks in the wrong order; placing objects in places they don't belong… and just generally, well, brain-damaged. 
Hence my not posting much in recent days. Plus, add to that, we're in the middle of packing house… Anyway, you get the idea. 
But work continues…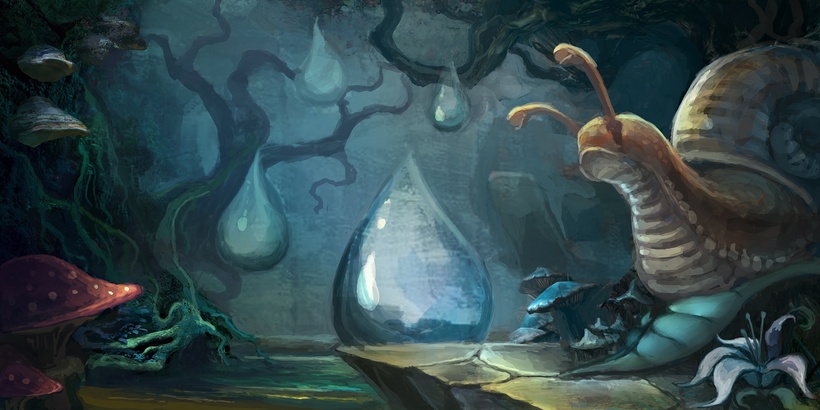 This image is from Adam and depicts a scene in the Vale of Tears where Alice is exploring… of it Adam says: 
Here is a work-in-progress update on the Valel of Tears, I have a "Madness Returns" more colorful version and the more depressing, cold-colored variant. Omri has suggested to go with the more depressing one, but to keep the leaves on the trees.
And to which I replied: 
I really like the vibrant "Madness Returns" version… but it would make more sense for it to start in the Depressing mode… which is a great idea for a mechanic in this area…
The area starts in the Depression Mode and then slowly shifts to Vibrant Mode as Alice passes through… or as the area is healed with Tears.
This is basically just a filter on certain models/areas applied inside Unreal. We did a simliar thing with "Grimm" … so maybe supply us with a Final Version of each half? As in, deliver one image but split it into two sides. One for Depression, one for Vibrant?
And, in general, it's a beautiful scene. Awesome!
If you're interested in learning more about this scene and what happens in it, you can check out the relevant section in the post containing the semi-complete Alice Narrative Overview. SPOILERS in that Document so… SPOILER WARNING!
Joey turned in this beautiful piece… a depiction of an encounter between Alice and The Duchess. This also takes place in the Vale of Tears; just after Alice and the Duchess in a battle because, as the Duchess says: 
Once defeated, The Duchess invites Alice in for tea and biscuits.
Duchess: "I had to make sure you were you. Hard to tell these days; no one is what they seem anymore. I don't even know if I am me anymore.
Though it's a beautiful scene, and we'll find a way to use it, it does deviate from the original request as Omri points out… 
i imagined more something like this, a skinny skeletal large hunched ugly duchess and alice drinking tea and talking on oversized chairs and table. on the line of a conversation, something closer to the copy.
And he provides this rough sketch for a new render from Joey…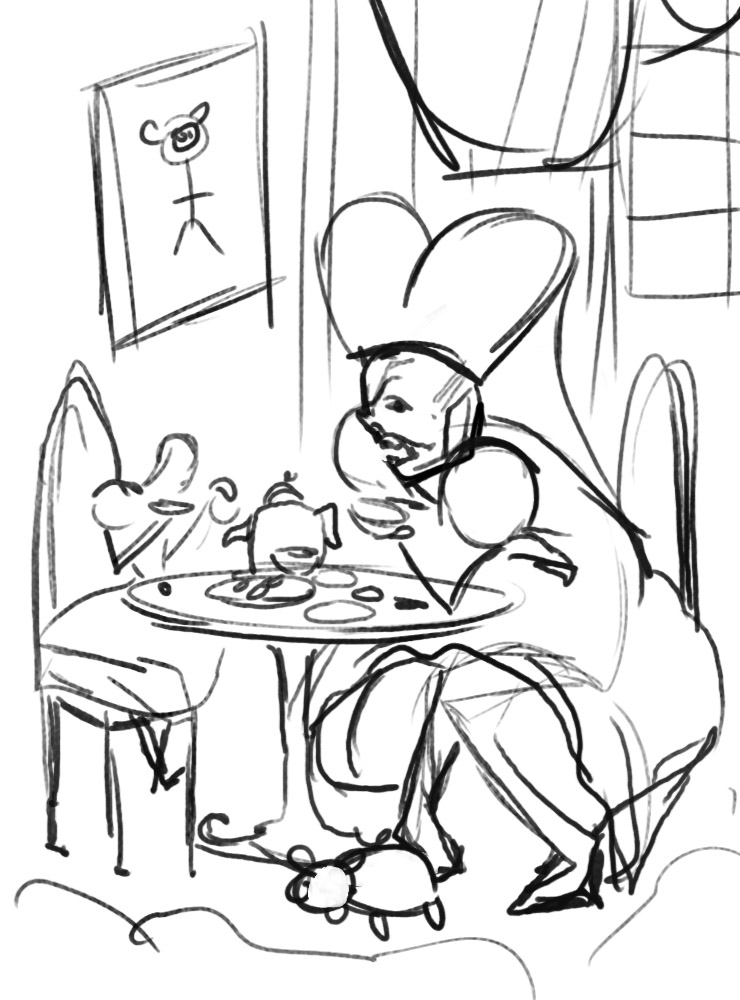 And last but not least (for this post anyway), is a collaboration illustration from Norm and Omri. This scene takes place in the Circus Realm. And it depicts Alice attempting to escape from this prison of fun with the help of a recently acquired Vorpal Blade. 
That image (above) is the cropped and color (final) version) of a larger illustration… 
Again, this scene can be found in the early pages of the Asylum Narrative document (link above). As we continue to develop and takes steps towards the writing of that document, the Art Team is following in our tracks and illustrating all the critical scenes. All of this content will be rolled into the Alice: Asylum Design Bible. And Alex has already started work on the layout and design of that document. We should have an early (style guide) draft of that to show you in a month or two. 
Feels to me like everything is turning out great. 
Let us know in the comments below what you think of these scene illustrations. Our artists love to hear your feedback and comments. 
Housekeeping (moving)
A quick reminder that my family will be moving to a new house on the 30th of January. That is only 8 days from today, so we are starting the process of packing up the Old House and prepping for a move to the New House. As you are aware (or might imagine), the packing and moving of a house that contains 3 adults, 1 child, and 1 dog, plus our Studio, Live Stream room, Warehouse (for Mysterious stuff), and two offices… is a LOT of work. So please excuse me if in the coming days leading to the 30th, and for a few days after, you don't see many posts from me. 
The rest of the team will still be at work on the story, art, and BD during those days. And when I return, I'll be to sure to bring with me a BIG UPDATE on all that's gone on during that time. 
From Shanghai with Love (and tears), 
-American