Dear Insane Children, 
I hope everyone is having a wonderful day. We are just wrapping up a big National Holiday here in China – Labor Day Week. During the holiday, we took Lucky with some friends to a nearby National Park for a day of sun and fun where Lucky ran into Pucca… 
Meanwhile, our pre-production team continued their efforts on Alice: Asylum with Omri turning in a stunning render of Alice confronting the Red Chess King and Queen (main image, above). 
Of this he wrote: 
about this image- i keep seeing Alice's parents as the queen and king, they are the chaos, they are the guilt. the sister i still feel should be somewhere but perhaps something else. so for me- personally making half chess pieces make "No sense" and in that case can work well for chaotic chess. IF you'll find it suitable for the story we can also redesign the chess pieces to be halves in general.
To which I replied: 
This is fantastic, @Omri – I love it. And I DO have a place for it… I realized this whole section can be moved to the Real Wonderland area Alice will travel to after she escapes from The Snow Globe. This makes sense because she's going to revisit a lot of the places that Shadow Alice previously explored and conquered. And it will give us a chance to fill in some blanks and answered some unanswered questions from the previous games.
And the timing of all of this is great because I am just wrapping up the final bits and pieces on the first section of the game – Inside The Snow Globe – then moving to the second section of the game – Real Wonderland. The idea is that Child Alice finally escapes from The Snow Globe only to wind up in Real Wonderland. Hatter is waiting there for her and explains that unless she stops Shadow Alice all is lost. 
In the sections that follow, Child Alice will chase Shadow Alice through a sequence of scenes linked to areas in the first and second games. The idea is that Child Alice needs to "walk a mile in my shoes" to understand everything Shadow Alice fought through and conquered. 
Crowd Design Time
Like I said above, this will offer a chance for us to answer some unresolved questions – or to fill in some mysterious blanks. Now… I've said many times that I think answering ALL of the questions is boring and that we should leave some questions unanswered in order to maintain a level of mystery around Alice and her adventures. 
That being said… Let me know in the Comments below… What answers would YOU like provided in the revisiting of these areas from the first and second game? And what areas would you like to see revisited? You could want to go back there because it was beautiful – or you want to see what it turned into after Alice left – or because you think it might contain some useful information. Think about it… and let me know! 
Burning Memories
Adam also sent over a final version of another of Alice's recovered memory scenes.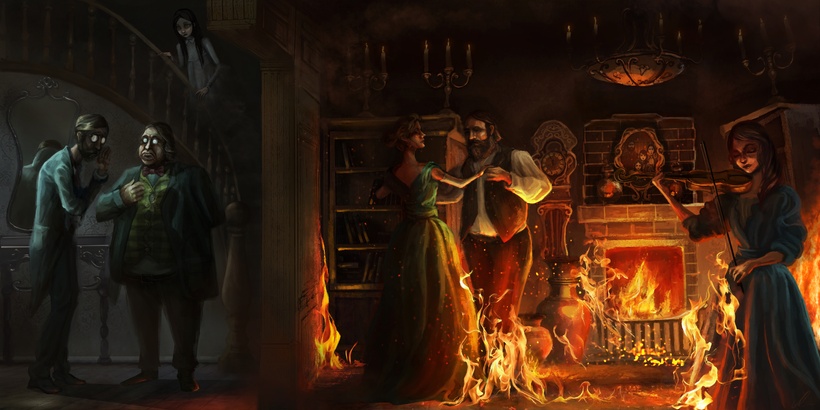 I've included this as an Attachment to this post in case you want to do like I did and make this your Desktop Background. Enjoy!
From Shanghai with Pucca Kisses, 
-American