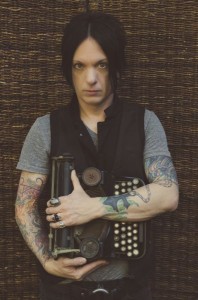 Continuing with a series of interviews geared towards support of our ongoing OZombie Kickstarter campaign, I've asked musician Chris Vrenna a couple of questions. Chris and I met back in the day, while I was at id Software and he was banging drums for Nine Inch Nails. He was instrumental (pun intended) in establishing the tone for the first "Alice" game and I've been a fan of his work (Tweaker and other projects) for years. To the interview!
AJM: Let's start off by getting out of the way some of the basics… Who you are and what you've been up to since you made the soundtrack for the first "Alice" game over 10 years ago?
CV: I am Chris Vrenna. I scored your first "American McGee's Alice" game over 10 years ago. I can't believe how long it's been! I have had a pretty amazing post-Alice decade. I released three records by my side project, tweaker. tweaker is primarily a studio collaborative project where I have been fortunate enough to work with many of my personal idols. Robert Smith, David Sylvian, Will Oldham, and Johnny Marr to name a few. I also spent an amazing year or so drumming for Gnarls Barkley. Their single "Crazy" was a massive #1 hit in almost every country in the world. I was honored to play with, and become friends with CeeLo and Dangermouse. And I spent 7 years working with Marilyn Manson. I co-produced and co-wrote the last two records and toured the world as either drummer or keyboard player numerous times. In my "free time" I take on remixing, programming, and/or mixing projects.
AJM: You're attached to the OZombie Kickstarter campaign as a "Stretch Goal." Have you ever been a goal of any sort or particularly stretchy? How does it feel to be a Stretch Goal on a KS campaign?
CV: I have never been a goal, "stretch" or otherwise, on a KS campaign. And I am SO excited to once again team up with you (American) to score OZombie. I am the opposite of having any "stretchy" abilities, except maybe time-stretching samples! (Insert rimshot sound effect here.)
AJM: It's a little early for final thoughts on many things related to the project, but have you had any early thoughts on directions you might take with the music for OZombie? We promise not to hold you too severely to any ideas you might express here.
CV: Wow! It is definitely a little early to talk specifics. But, I am SO inspired by all the early concept art I've seen. Like with all your games, the design is so vivid it instantly gets my brain spinning with ideas for both sound palettes and melodies.
AJM: You had a chance to visit Spicy Horse Games in Shanghai back in 2009 (is that right?). Can you share some of the impressions you took away about Shanghai?
CV: I believe it was 2009. It was my first, and still to this day, my only visit to China. I found Shanghai so fascinating and was surprised by how varied the city is culturally and architecturally. The ancient city, the European riverfront, and the incredibly futuristic business district just show the long history of Shanghai.
AJM: What do you do when you're not creating music? Any hobbies or past-times you'd like to share? Any links between those hobbies and the inspiration you find to make music?
CV: My passion is art. I buy and collect as much art as I can. There is such a connection when a piece of art (whether painting, sculpture, photography, etc) grabs you and draws you to it. It becomes so personal and that's when you know you just have to buy it so you can feel that connection forever.
AJM: Lastly, do you have a favorite character from the Oz books or films? If so, why?
CV: I have a few favorites. First has to be the flying monkeys. They were the most terrifying creatures as a child. And, at 46 years old, I STILL find them scary. And I have always had a soft spot for the Cowardly Lion. Can't really put it into words, but I always empathized with him. maybe because I was picked on in school.